| | |
| --- | --- |
| | This article is a stub as it is considered incomplete. Why not help out? |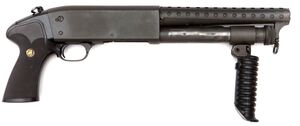 The Ithaca 37 is a pump-action shotgun manufactured by the Ithaca Gun Company, and has notably had the longest production run of any shotgun in US history, still being produced since its inception in 1937. The weapon was based off the Remington Model 17, with Ithaca explicitly waiting until the Model 17's patents expired in 1937 to begin manufacturing the shotgun. Unlike most shotguns, the Ithaca 37 both loads and ejects shells from the ejection port on the bottom of the gun. The Stakeout variant is a shortened version of the Ithaca 37 with a pistol grip and no stock designed for law enforcement use.
A customized Ithaca 37 "Stakeout" with a heat shield and vertical foregrip is featured in Battlefield Hardline as the 37 Stakeout.
Battlefield Hardline
Edit
"The 37 Stakeout is a 12-gauge pump-action shotgun, deadly in close-quarter situations."
— In-game description
The 37 Stakeout is a weapon featured in Battlefield Hardline.
It is a purchasable Shotgun for the Law Enforcement Enforcer, and is uniquely equipped with an irremovable Vertical Grip.
A non-customized 37 Stakeout is featured on the Deluxe Edition cover art for Battlefield Hardline.
The customized model of the 37 Stakeout is based on the custom Ithaca 37 Stakeout carried by Detective Ricardo Tubbs in the television series Miami Vice. The Stakeout's design is one of many references to Miami Vice in Hardline.