Line 5:
Line 5:
 

{{Quote|The Advanced Combat Optic Gunsight is a medium speed, medium range scope which magnifies at 4x. A Ballistic reticle makes gauging bullet drop at longer ranges easier.|Battlelog description}}

 

{{Quote|The Advanced Combat Optic Gunsight is a medium speed, medium range scope which magnifies at 4x. A Ballistic reticle makes gauging bullet drop at longer ranges easier.|Battlelog description}}

 

===Singleplayer===

 

===Singleplayer===

−

In singleplayer, the '''ACOG''' is seen attached onto an [[M4 Carbine]] in all three of the Fault Line Series episodes. It seems to perform similarly to that of ''Battlefield: Bad Company 2''. It is also seen on the [[M16|M16A4]] assault rifle in [[Operation Métro]] gameplay. It has been remodeled since the "Fault Line" reveal, as it now has a clearly visible red chevron in the center of the sight. The outside of the scope has also been remodeled, with the fiber optic visible on top, and the rear iron sight removed. It gives the player an advantage of longer range targeting in aiming down the sights, but unfortunately also makes recoil unsuitable for accurate automatic fire.

+

In , the '''ACOG''' is seen attached onto an [[M4 Carbine]] in all three of the Fault Line Series episodes. It seems to perform similarly to that of ''Battlefield: Bad Company 2''. It is also seen on the [[M16|M16A4]] assault rifle in [[Operation Métro]] gameplay. It has been remodeled since the "Fault Line" reveal, as it now has a clearly visible red chevron in the center of the sight. The outside of the scope has also been remodeled, with the fiber optic visible on top, and the rear iron sight removed. It gives the player an advantage of longer range targeting in aiming down the sights, but unfortunately also makes recoil unsuitable for accurate automatic fire.

 
+
 
+

On the actual campaign, plenty of weapons are attached with this optics accessory, such as the SCAR-L on [[Operation Guillotine]], several F2000s on [[Night Shift]], and several sniper rifles picked up from fallen enemies or the environment.

 
 
 

===Multiplayer===

 

===Multiplayer===
---
Revision as of 11:00, 22 April 2012
For the specialization in Bad Company 2, see 4X Rifle Scope
The ACOG (English: Advanced Combat Optical Gunsight) is a series of magnified weapon scopes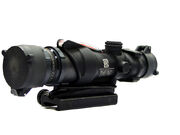 made by the American company Trijicon. Their scopes commonly offer a magnification of 4x, so anything viewed down the scope will be four times bigger than when viewed normally, and utilise modern materials such as Tritium to improve aiming and target acquisition. The ACOG series of weapon scopes is used by the US Armed Forces, as well as parts of other nations' armies such as the British Armed Forces.
Battlefield 3
"The Advanced Combat Optic Gunsight is a medium speed, medium range scope which magnifies at 4x. A Ballistic reticle makes gauging bullet drop at longer ranges easier."
— Battlelog description
Singleplayer
In Singleplayer, the ACOG is seen attached onto an M4 Carbine in all three of the Fault Line Series episodes. It seems to perform similarly to that of Battlefield: Bad Company 2. It is also seen on the M16A4 assault rifle in Operation Métro gameplay. It has been remodeled since the "Fault Line" reveal, as it now has a clearly visible red chevron in the center of the sight. The outside of the scope has also been remodeled, with the fiber optic visible on top, and the rear iron sight removed. It gives the player an advantage of longer range targeting in aiming down the sights, but unfortunately also makes recoil unsuitable for accurate automatic fire.
On the actual campaign, plenty of weapons are attached with this optics accessory, such as the SCAR-L on Operation Guillotine, several F2000s on Night Shift, and several sniper rifles picked up from fallen enemies or the environment.
Multiplayer
The ACOG is a 4× scope, the American counterpart to the Russian PSO-1. Unlike the default 8x Rifle Scope, the ACOG does not suffer from scope glint.
External links
Community content is available under
CC-BY-SA
unless otherwise noted.