Cut content
The subject of this article, APS, has been cut from the final version of a Battlefield game.

The APS Underwater Assault Rifle (Avtomat Podvodnyy Spetsialnyy (Автомат Подводный Специальный), Special Underwater Automatic Rifle) is an AK-47 derivative designed by the Soviet Union in the early 1970s as an underwater firearm. It was able to fire 5.66x39mm MPS underwater rounds. It was adopted in 1975. It is made by the Tula Arms Plant (Тульский Оружейный Завод, Tul'skiy Oruzheynyy Zavod) in Russia. It is exported by Rosoboronexport.
Battlefield 2: Special Forces
Edit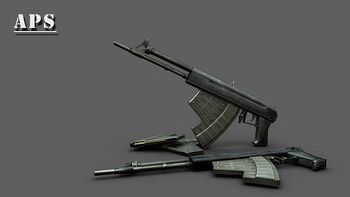 APS was a cut weapon in a very early version of Battlefield 2 Special Forces. The APS was an underwater rifle. As there are no underwater levels the weapon is not present in the game.
http://forums.bf2s.com/viewtopic.php?id=51621
Community content is available under
CC-BY-SA
unless otherwise noted.