| | |
| --- | --- |
| | This article is a stub. It is short and in need of expansion. Why not help out? |
| | |
| --- | --- |
| | This article is currently under construction. It may contain little or inaccurate information. |
The
ARX160
is a modern assault rifle designed by Beretta in 2008. Created for the
Italian
military to replace its older AR 70/90 rifles, the ARX160 features a modular design with several ambidextrous features. The weapon is chambered for the standard 5.56x45mm NATO cartridge, although it can be easily converted to use other cartridges. The ARX160 was a Phase II contender for the
US Army
's Individual Carbine competition, and is currently in service with the Italian Armed Forces and a few special forces groups worldwide.
Battlefield 4
Edit
"Italian assault rifle developed for the Future Soldier program with a modular design and high fire rate."
— In-game description
Only available in multiplayer, the AR-160 is an Assault Rifle introduced in the Battlefield 4: Naval Strike expansion. It is unlocked upon completion of the Spare Time Sniper assignment.
The AR-160 functions similarly to the CZ-805, but with more horizontal recoil, less vertical recoil, a slightly faster tactical reload and a faster muzzle velocity. Despite this, it has a slower empty reload than the CZ-805. The AR-160 is best used for medium-range engagements, ideally using short ranged optics with a Magnifier combination or utilizing a medium range scope and Canted Ironsights. The use of the Angled or Folding grips with the use of a Heavy Barrel help to stabilize the weapon over longer ranges while the Ergo Grip helps with the weapon in close quarters.
Before the Fall patch, the AR-160 has the same recoil profile as SCAR-H, this means the AR-160 is as uncontrollable as other 7.62x51mm NATO weaponry during automatic fire.
After the Fall patch, the AR-160 is now much more useful, being the second-lowest vertical recoil assault rifle in the game, after SAR-21. In addition, suppressed muzzle velocity has been increased to 380 m/s.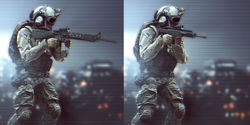 Due to a bug, the AR-160 third-person weapon model appears much smaller than normal. A similar issue affects the SR338.
When using an underslung grenade launcher or the M26, the first person view may change to a point of view where the weapon is held over the player's head.
Along with the other weapons of the first three expansions for Battlefield 4, the AR160 actually has an in-game description, but it can only be viewed when the weapon is unlocked at the end of a round or if it is equipped in a gadget slot using external tools.
Weapons of

Battlefield 4

Assault Rifles
Personal Defense Weapons
Light Machine Guns
Sniper Rifles
Carbines
Designated Marksman Rifles
Shotguns
Sidearms
Battle Pick Up
Unusable Weapons
Community content is available under
CC-BY-SA
unless otherwise noted.