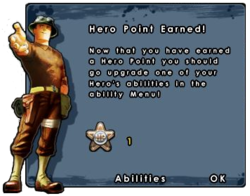 Abilities are a feature introduced in Battlefield Heroes. They boost player performance and are usually limited in duration, followed by a cooldown in which the ability remains inactive until the period is over. Abilities are class specific and may only be used once they are upgraded to level one.
Abilities can be upgraded with Hero Points on the abilities screen found in the main menu of the game, with level five being the maximum level for an ability. Upgrading improves the effectiveness, duration, and cool down period of an abilities. Players can also reset Ability upgrades which will refund hero points that can be used to upgrade other items. Each hero has one Hero Point by default, which is automatically placed in the basic class specific ability. They are awarded permanently through gaining experience. Each additional Hero Point is granted upon reaching levels of multiples of two. With the level cap at 30, a maximum of 16 Hero Points can be earned.
| | | | |
| --- | --- | --- | --- |
| Image | Name | Description | Effect |
| | Hero Shield | Protect yourself and nearby teammates with a shield that absorbs damage! | Surrounds the player and nearby teammates to absorb damage. The shield will disappear once enough damage has been sustained. |
| | Leg It | Increase your run speed. | Temporarily increasing running speed of the player and nearby teammates. |
| | Explosive Keg | Hurl a barrel at your enemy and shoot it to make it explode! Level 2 and above will make enemies run slower for a short time when hit! | Throws an explosive barrel that will explode after a certain amount of time or if shot. Will cause enemies to move slower once upgraded to level 2. |
| | Frenzy Fire | Increase your MG accuracy to focus fire on a single target while healing yourself a % of your total HP for every 4th hit. | Decreases spreed of bullets fired to increase machine gun accuracy. Restores percentage of health for fourth bullet hit. |
| | I Eats Grenades | Gobble up all nearby explosives for a short duration. Each explosive eaten will heal a percentage of your total health! | Restores a percentage of health by absorbing nearby explosives including weapons, gadgets, abilities, and widgets. |
Statistics
Edit
| | | | |
| --- | --- | --- | --- |
| Image | Name | Description | Effect |
| | Combat Medicine | Instantly heal yourself and all nearby team mates. The amount you are healed will go up for each team mate healed. | Instantly heals the player and nearby teammates. |
| | Blasting Strike | Knock back all nearby enemies and vehicles. | Blasts all enemies and vehicles away from the player once activated. W |
| | Burning Bullets | Shots fired from your SMG sets enemies on fire. | Causes bullets to inflict fire damage to enemies and vehicles over a short period of time. |
| | Grenade Spam | Throw multiple grenades at once! | Allows players to throw multiple grenades at once. |
| | Sixth Sense | See all enemies for a short period of time. | Temporarily reveals the locations of all enemy players on the map. |
Statistics
Edit
| | | | |
| --- | --- | --- | --- |
| Image | Name | Description | Effect |
| | Stealth | Hide yourself from your enemies. | Makes the player invisible for a short period of time unless damaged when in close proximity to enemy players or damage is received. Counteracted with Mark Target and Sixth Sense abilities. |
| | Elixir | Increase your run speed for a short time. | Grants the player a temporary short burst of speed and a shield. A trail of smoke and white line will be left behind the player once activated. |
| | Mark Target | Receive points for designating enemy targets for your team. | Spots enemy players for teammates. Also reveals enemies using the stealth ability if marked. |
| | Troop Trap | Place an explosive that will trigger when enemies approach too close or when shot. Nearby Enemies will be damaged by the explosion and suffer 12 points of poison damage over time. | Allows players to place small explosives that detonate on contact and deal large amounts of explosive damage. Can also inflict poison damage over time. |
| | Piercing Shot | Increase the damage done by your sniper rifle. | Increases damage of sniper rifles after each shot but prevents critical hits on enemies. |
| | Poisoned Blade | Damage from the knife causes the victim to be poisoned losing health over a period of time. | Applies poison on the players knife, inflicting poison damage to enemy players if struck. |
Statistics
Edit
Community content is available under
CC-BY-SA
unless otherwise noted.