Achi Baba is a Codex Entry featured in Battlefield 1, introduced in the Battlefield 1: Turning Tides expansion. It is unlocked by winning one game on Achi Baba.
Transcript
Edit
TURNING TIDES
Edit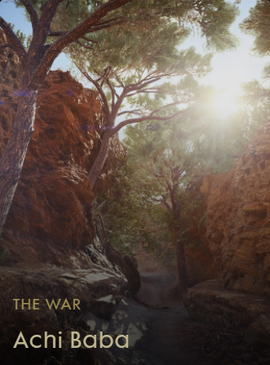 The heights of Achi Baba Hill dominated the Gallipoli Peninsula and were the prime objective for the landing Allies. The Ottoman defenders had dug in around the village of Krithia and prepared camouflaged machinegun and artillery nests. From the heights, the defenders could direct their fire on the landing zones and every attempt to seize their positions would be an uphill struggle against an entrenched defender. For Sir Ian Hamilton, Commander-in-Chief of the Allied Expeditionary Force, the hill with its slopes reaching towards the Aegean and the Dardanelles represented the major obstacle on his way to succes and he ordered several infantry attacks to seize its crest. They all failed. The hill remained in Ottoman hands at the cost of several thousand Allied casualties.
Community content is available under
CC-BY-SA
unless otherwise noted.