The Airco DH.10
is a
Codex Entry
featured in
Battlefield 1
, introduced in the
Apocalypse
expansion. It is unlocked upon obtaining ten kills with the
Airco DH.10
.
Transcript
Edit
APOCALYPSE
Edit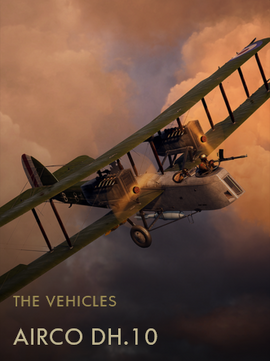 The Airco DH.10 was a British twin-engine bomber airplane, able to carry up to 920 lbs. / 417 kg of bombs. It had a crew of three- a pilot, an aerial gunner, and a bombardier, and was additionally armed with two Lewis guns. It could fly up to 130mph / 210 km per hour and remain in the air for six hours. Different prototypes had already been built by mid 1916, but it was not until the German Luftstreitkräfte began bombing Britain by plane instead of by airship that the British military built heavy bombers to attack in retaliation. The Airco DH.10, which was able to carry out heavy short range bombardments or long range reconnaissance flights, did not reach the frontlines until mid 1918, too late to have much of an impact on the war.
Community content is available under
CC-BY-SA
unless otherwise noted.