Aircraft Support' is a Codex Entry featured in Battlefield 1. It is unlocked by collecting all Field Manuals in the chapter Breakdown of the singleplayer mission Through Mud and Blood.
Transcript
Edit
AIRCRAFT SUPPORT TANKS
Edit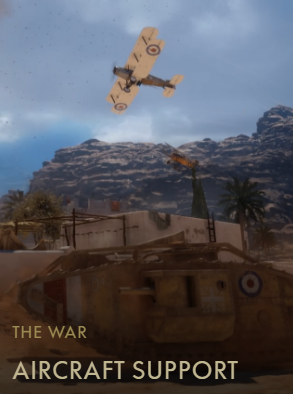 At Cambrai in 1917, the British engaged in the first ever concentrated tank attack against the impregnable German Hindenburg line. The attack began with a 1000-gun artillery surprise bombardment, followed by an advance of more than 370 tanks. As they moved, over 300 planes flew overhead to cover the sound of these landships crossing no man's land.
Supported by 4 RFC Squadrons flying ground attack missions, the offensive broke through several lines and penetrated 5 miles deep on a 6-mile front. Although the success was not fully exploited, it showed the potential and capacity of tanks and aircraft operated in concert.
THE BUZZING OF THE PLANES COVERED THE SOUNDS OF THE TANKS
Edit
The fact that the tanks were supported by planes is often overlooked, and this cooperation between the Tank Corps and the RAF continued to develop throughout the war.
In June 1918, some squadrons specialized in spotting anti-tank guns in the path of the tank and called down artillery fire on them. Some aircraft that carried bombs filled this role themselves, alongside providing vital information on paths available to the tanks on the ground.
Community content is available under
CC-BY-SA
unless otherwise noted.