Fire Emblem Warriors: Three Hopes - The Loop
Play Sound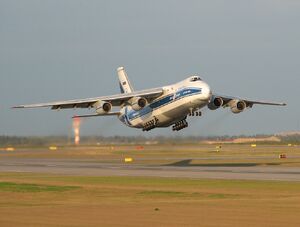 The Antonov An-124 Ruslan (Антонов Ан-124 "Руслан") (NATO reporting name: "Condor") is a Soviet-Russian cargo plane that is the world's second largest operating cargo plane. More than 50 were built and still in service in Russian Air Force and civilian operators.
The An-124 has been used to carry locomotives, yachts, aircraft fuselages, and a variety of other oversized cargoes. The airlift is able to kneel to allow easier front loading. Up to 150 tonnes of cargo can be carried in a military An-124; it can also carry 88 passengers in an upper deck behind the wing center section. The cargo compartment of An-124 is 36 m x 6.4 m x 4.4 m, ca. 20% larger than the main cargo compartment of C-5 Galaxy, which is 36.91 m x 5.79 m x 4.09 m.
The An-124's first appearance was in Battlefield: Bad Company 2.
Battlefield: Bad Company 2
[
]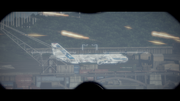 The An-124 appears in several parts of the campaign/multiplayer, generally as a cargo/paratrooper plane.
Singleplayer
[
]
The An-124 is the plane that the Scalar Weapon is found aboard, as well as being Arkady Kirilenko's headquarters. It appears in Zero Dark Thirty, Force Multiplier and is the main setting for Airborne. The Antonov An-124 is never available to the player.
Multiplayer
[
]
The An-124 can be seen on Port Valdez, White Pass, and Nelson Bay. Multiple An-124's are easily visible on Port Valdez, making passes every few seconds at the first base as troops are deployed. However, on White Pass and Nelson Bay, they are extremely high up in the sky and are harder to see.
Trivia
[
]
In Force Multiplier, after Sweetwater remarks at the size of the plane, Haggard identifies it as an An-225, which is incorrect, as it is an An-124 Ruslan. The biggest differences between the 225 and the 124 is the size of the aircraft, the tail, the landing gear, and the number of engines - the An-124 has four engines, while the An-225 has six.