Battle of Malmaison is a Codex Entry featured in Battlefield 1, introduced in the July 2017 update. It is unlocked upon winning one game on the map Nivelle Nights.
Transcript
Edit
The Battle of Malmaison
Edit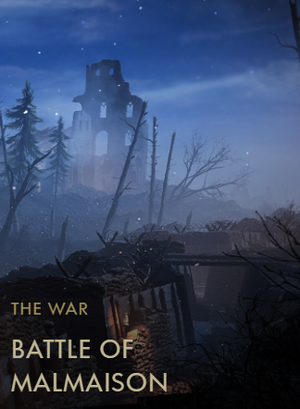 The Chemin des Dames ridge was heavily contested during WW1, with several major battles fought over the strategically important elevation. Literally the "ladies' path", it got its name in the 18th century from being a route taken by the two daughters of Louis XV. Beneath the ridge lies a giant cave network called "The Dragon's Liar" - originally created for limestone excavation in the 17th century, but in WW1 used by both sides as underground shelter.
The Franco-British Nivelle Offensive in April 1917 failed to achieve the promised war-winning breakthrough and led to widespread mutiny among French soldiers, so for the final assault of the year more limited goals had been set with the Chemin des Dames being the main objective. In the days before the attack super-heavy siege artillery up to 410 mm fired armor piercing shells to crack the cave roofs of the ridge, the French gunners guided from airplanes and demonstrating superb accuracy. The infantry attacked at night on October 23, advancing behind an intense creeping barrage which left most of the surviving Germans shell shocked. German SOS rockets rose into the nigh sky calling in a counter barrage, but the French artillery was highly effective in taking out the German guns. This also led to the 63 French tanks involved facing far fewer threats, but days of heavy artillery and rain made parts of the battlefield impassable. Most tanks got stuck in mud or broke down, but 21 reached the German second position as planned and contributed significantly by silencing enemy machine guns and taking prisoners. On October 27 the French had captured the village and fortress of Malmaison, taken control of the Chemin des Dames ridge and taken over 11,000 prisoners.
Community content is available under
CC-BY-SA
unless otherwise noted.