Arcane: League of Legends - The Loop
Play Sound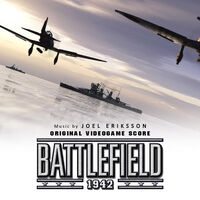 The Battlefield 1942 Original Video Game Score consists of twenty three tracks created for Battlefield 1942 by Joel Eriksson. Of the twenty three tracks, only seven made it to the final game; the remainder were made public with the score's release.
As the first soundtrack of the Battlefield series, 1942's soundtrack introduced the Battlefield Theme, as well as making use of large and majestic fanfares similar to those used in future installments.
Tracklist
[
]
Bolded tracks were used in the final game.
| | | |
| --- | --- | --- |
| # | Track Title | Duration |
| 1 | Briefing | 1:59 |
| 2 | Intro | 2:40 |
| 3 | Menu | 3:32 |
| 4 | Slaughter I | 3:00 |
| 5 | Slaughter II | 2:48 |
| 6 | Slaughter III | 2:40 |
| 7 | Slaughter IV | 2:41 |
| 8 | Sneak I | 2:01 |
| 9 | Sneak II | 2:07 |
| 10 | Sneak III | 2:24 |
| 11 | Sneak IV | 2:09 |
| 12 | Stress I | 2:23 |
| 13 | Stress II | 3:05 |
| 14 | Stress III | 2:51 |
| 15 | Stress IV | 2:44 |
| 16 | Theme I | 4:41 |
| 17 | Theme II | 2:58 |
| 18 | Theme IV | 3:18 |
| 19 | Vehicle I | 3:00 |
| 20 | Vehicle II | 3:19 |
| 21 | Vehicle III | 2:48 |
| 22 | Vehicle IV | 4:08 |