| | |
| --- | --- |
| | This article is currently under construction. It may contain little or inaccurate information. |
| | |
| --- | --- |
| | This article is a stub. It is short and in need of fortification. Why not help out? |
Battlefield Heroes: Christmas 2010, also simply referred to as Christmas, is a themed update for Battlefield Heroes. The theme centers around Christmas. The update was released on December 1st, 2010, with daily content drops over the course of December.
Main article: Battlefield Heroes Customization#Christmas 2010
For the update, an advent calendar was introduced, a system of releasing content each day for the duration of the event, starting on December 1st, 2010 and ending on December 24th, 2010. It operates identically to the Hero Reward Card from the Winter Armistice update.[1] In this update was the introduction of winter variants of the Medal of Honor weapons, being weapons that have cosmetic changes, as well as featuring usable scopes on the M249 and PKM.
"You've done it again heroes. You have blown us away, this time with the support you have shown for the Child's Play Charity, which helps provide video games for children in hospital.
To help further support this cause we setting a goal for the community to become real heroes this Christmas. If we reach $8,000 in community funding, we will add another $8,000 to the pot for Child's Play. That's an awful lot of games!"
— Battlefield Heroes forums [citation needed]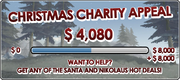 Purchases of the Santa's Holiday set or Nikolaus' Wintry set contributed to donations from Easy Studios to the Child's Play charity, contributing $1 from each purchase. The sets could be purchased with or without the associated hat, due to the hats being released individually in 2009. Reaching $8,000 in donations would prompt an additional donation of $8,000 to the charity.[2]
Day 1
Santa's Holiday Set
Nikolaus' Wintry Set
Randy's Rudolph Nose
Rein's Rudolph Nose
Frosty Face Paint
Frosty Top Hat
Prancin' Holiday Horns
Blitzin' Holiday Horns
Day 2
Scoped SOF M16
Scoped SOF AK74
Day 3
Winter Camo M-21
Winter Camo SV-98
Day 4
Scoped Arctic M249
Scoped Arctic PKM
Day 5
40% off stolen and pilfered Battlefield Heroes Gets Bad Company weapons from Day 5 to Day 8
Day 6
Cope's Furious Bat
Bach's Bad Man Jacket
Day 7
20k Chain
Skully's Mask
Day 8
Dragon Lotus Style
Dancing Dragons
Day 9
Crystal Lake Party Mask
Simon's Snappy Suspenders
Day 10
Brown Bag of Shame
Peak's Boo Bag
Day 11
Maggard's Knit Cap
Stout Sailor's Knit Cap
50% off Hero Name Change from Day 11 to Day 15
Day 12
Freddy's Flesh Wounds
Dangerous Dragon
Day 13
Double Cross Ammo Belt
Reinhart's Raincoat
40% off regular Battlefield Heroes Gets Bad Company weapons from Day 13 to Day 16
Day 14
3640 for the price of 2800
Day 15
Honor Guard's Set
Honor Protector's Set
Day 16
Leather Whip
National Hi-Bye Shirt
Day 17
Kris' Cooked Halo
Bernd's Blue Cap
Day 18
Speedy Driver's Jacket
Sloan's Savvy Shirt
Day 19
Kit's Quiver
Quick Quentin's Quiver
Day 20
Bruno's Binoculars
Ice & Fire
Day 21
White Doo Rag
Blue Doo Rag
Red Doo Rag
Black Doo Rag
Werner's Weird Wizard Hat
Victor's Visor
Bloody Scar
Day 22
Green Tank Top
Ferdinand's Fancy Fez
Day 23
Speedy Driver's Helmet
Green Super Hero Mask
Black Super Hero Mask
Veteran's Head Bandage
Day 24
Benny's Banjo
Pirate's Peg Leg
+30% extra per purchase until December 31st, 2010
Available from December 21st, 2010 to December 25th, 2010, Christmas Supply Drops were released that contained widgets, Medal of Honor and Battlefield Heroes Gets Bad Company weapons, the new scoped weapons, Patton the Parrot or Mel the Monkey.
Community content is available under
CC-BY-SA
unless otherwise noted.