Raise a Floppa - The Loop
Play Sound
| | |
| --- | --- |
| | This article is a stub. It is short and in need of fortification. Why not help out? |
| | |
| --- | --- |
| | This article is currently under construction. It may contain little or inaccurate information. |
Incoming!
The subject of this article is a recent or unreleased addition to a Battlefield game. It may contain speculation or errors.
Have new, relevant information to add? Why not help out?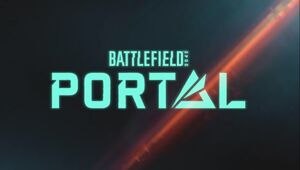 "Your Battlefield, Your Rules."
— Tagline
The Battlefield Portal is a gamemode featured in Battlefield 2042. Developed by Ripple Effect Studios, it allows players to create custom matches with a variety of gameplay options and share them with the community. Aside from content featured in the main game, the mode gives players exclusive access to maps, weapons, vehicles, and classes from Battlefield 1942, Battlefield: Bad Company 2, and Battlefield 3. The mode will be supported post-launch with live-service content.[1]
Overview
[
]
Battlefield Portal allows players to create custom matches known as "Experiences". Players may select from preset modes such as Conquest, Rush, or Team Deathmatch or create their own gamemode with specific rules and objectives. Like the main game, players have the option to use Bots as an enemy team or to fill up both teams for matches. Experiences are created upon the creation of a match and will remain active so long as they are filled with players. Players may also follow players which will allow them to receive notifications when that player is online and running matches. Official playlists will be available to make it easier for players to find the most popular matches.
Experience is obtained normally in matches and player progression is tied to the main game.
Settings
[
]
Battlefield Portal provides players with a variety of customization options for their Experience in the Creation Suite. It also allows players to give others permission to modify their Experiences with their settings. Advanced settings are available through a Logic Editor which give players options to use visual scripting logic to have more control with their Experience.
Mobility - Players are given the option to restrict players mobility to make their experience authentic to each game. This includes removing the ability to Aim, go Prone, Sprint, health regeneration, etc.
Player Count - Players may control the max number of players in each match or team.
Logic Editor - Gives players more advanced settings to customize Experiences such as allowing players to define rules, victory conditions, in-game action consequences, etc.
Maps
[
]
Battlefield Portal will feature six maps at launch from Battlefield 1942, Battlefield: Bad Company 2, and Battlefield 3. Each map has been rebuilt from the ground up with the game's engine. Dynamic weather from the base game will not featured on these maps. However, Levolution events will be available if they were present on a map in their original game. All maps from the base game will be available in the Battlefield Portal.
Weapons and Gadgets
[
]
The mode feature more than forty weapons and thirty gadgets from all three games as well as all weapons and gadgets from Battlefield 2042. Players will have the option to restrict weapons to overall matches, players, and teams. Unlike the base game, weapons are not balanced. To counteract this, options are available to make older weaponry on par with future technology from the base game.
Vehicles
[
]
Over forty vehicles will be available for use in the mode. Like weaponry, vehicles from different games can be mixed and are not necessarily faction specific. Vehicle options are also available for balancing.
Factions
[
]
Aside from the factions in Battlefield 2042, players may choose between seven factions that were featured in Battlefield 1942, Battlefield: Bad Company 2, and Battlefield 3. While players may not mix different factions, they can pit factions from different games against one another. Factions include the United States from all three games, the United Kingdom, Germany, and Russia.
Classes
[
]
Unlike the base game, class Archtypes return from all three games. Classes retain the look they had in each of their respective games. Specialists may also be used in the Battlefield Portal.
Gallery
[
]
Videos
[
]
Trivia
[
]
References
[
]