For similar challenges in the Battlefield Series, see Assignments
For Weapon Proficiency and Mastery Assignments, see Battlefield V Assignments/Weapon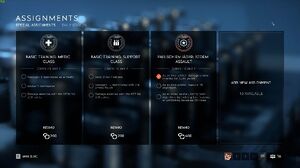 Assignments are challenges featured in Battlefield V. Similar to past installments, players must complete specific tasks in order to complete them. Four categories of assignments are available: special assignments, challenge assignments, Tides of War assignments, and daily orders. Special assignments feature two to five specific tasks with two, three, or all tasks needing to be finished in order to complete the respective assignment. Upon completion, special assignments will award Company Coin, other awards such as Dog Tags or cosmetic options. Three Daily Orders are available at any time and are refreshed every twenty-four hours, requiring only one task to be completed. Upon completion, players will be awarded Company Coin and XP.
Community content is available under
CC-BY-SA
unless otherwise noted.