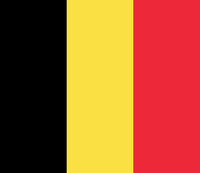 Belgium (officially known as the Kingdom of Belgium) is a developed country in Western Europe. Its capital is Brussels.
Historically, Belgium existed in the area known as the Low Countries, a somewhat larger area than the current Benelux group of states that also included parts of Northern France and Western Germany. From the 16th century until the Belgian Revolution in 1830, when Belgium seceded from the Netherlands, the area of Belgium served as the battleground between many European powers, causing it to be dubbed the "Battlefield of Europe", a reputation strengthened by both World Wars.
Armed Forces
[
]
Seal
Branch
The

Belgian Land Component

is the main branch in the Belgian military responsible for ground operations and occupations.
The

Belgian Maritime Component

is a branch of the Belgian responsible for naval operations and movements in coordination with the Belgian Land and Air Components.
The

Belgian Air Component

is a branch of the Belgian military responsible for aerial operations, transportation and support.
Military Organizations
[
]
These are the military organizations that Belgium was or is still a part of.
| Flag | Organization |
| --- | --- |
| | Belgium is a member state of NATO, which is featured as a faction in its own right in the singleplayer mode of Battlefield 2: Modern Combat. Belgium is presumably involved indirectly in this faction. |
| | Belgium was a member state of the Allied Forces during the First and Second World War. While they are never seen as one specific faction, they are represented as each individual nation. |
Appearances
[
]
Battlefield 1942
[
]
The map Battle of the Bulge takes place in Belgium, with the US Army engaging the Wehrmacht in the Ardennes Forest in the winter of 1944-45.
Battlefield 1
[
]
The military forces of Belgium do not appear in Battlefield 1, however several maps take place within Belgium.
Zeebrugge and Passchendaele are set within Belgium. More specifically, they are set in the West Flanders region and pit the British against the German Empire.
On Zeebrugge, the Royal Marines take part of the famous Zeebrugge Raid, with the goal to occupy the canal and prevent German ships and U-Boats from leaving port. Likewise, the British Army fights the Germans at the completely obliterated village of Passchendaele, during the infamous Third Battle of Ypres.
Battlefield V
[
]
Panzerstorm takes place during the initial invasion of Belgium in May 1940, with the United Kingdom fighting against Germany. In the Battle of Hannut Grand Operation, the Belgian Army is mentioned as having been crushed by the Wehrmacht after their capture of Fort Eban-Emael.