The British Bulldog is a Codex Entry featured in Battlefield 1. It is unlocked upon obtaining ten kills with the Bull Dog Revolver.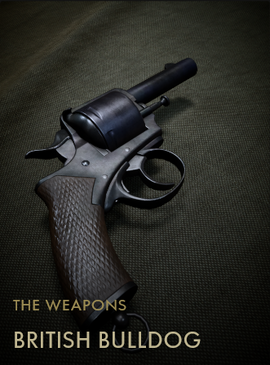 It has been argued that the British Bull Dog Revolver was the actual Gun That Won The West - a type of solid-frame pocket revolver that was immensely popular in the late 19th century.
The British Bull Dog was designed in England in 1868 and was soon copied - officially and unofficially - in Belgium, Spain, France, Pakistan, and the USA, and kept on being produced into World War 1. The Bull Dog is a short-barreled double-action revolver with a short grip and swing-out ejector, intended to be carried in a coat pocket. US Army General George Armstrong Custer is said to have wielded British Bull Dogs at the Battle of the Little Bighorn.
Community content is available under
CC-BY-SA
unless otherwise noted.