For other uses of Bulldog, see Bulldog (disambiguation).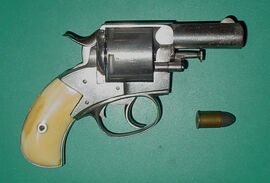 The British Bull Dog revolver was a popular type of solid-frame pocket revolver introduced by Philip Webley & Son of Birmingham, England in 1872 and subsequently copied by gunmakers in Continental Europe and the United States.
Battlefield 1
[
]
This item has a Codex entry: British Bulldog
"It has been argued that the British Bull Dog Revolver was the actual Gun That Won The West. It was a popular and widely copied style of short barrelled revolver."
— In-game description
The Bull Dog Revolver (also referred to as the British Bulldog) is a weapon featured in Battlefield 1.[1] It is only available for the Support kit.
The Bull Dog fills the role of high-damage, low rate-of-fire pistol for the Support kit. It is a gate-loading revolver, operating similarly to the Gasser M1870 revolver of the Assault class. However, when compared to the Gasser M1870, the Bull Dog has a somewhat higher rate of fire, but an extremely long reload of more than 9 seconds.
Weapon Skins
[
]
Bull Dog Revolver Skins

Legendary

Beachy Bill · The Kid

Distinguished

Bighorn · Gambler

Special

Royal Decree · Royal Edict · Royal Order · Royal Statute
Gallery
[
]
References
[
]