Cape Helles is a Codex Entry featured in Battlefield 1, introduced in the Turning Tides expansion. It is unlocked by winning a match on Cape Helles.
Transcript
Edit
TURNING TIDES
Edit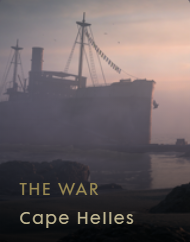 Cape Helles, which lies at the foot of the Gallipoli peninsula, was the main landing zone for the Anglo-French amphibious operation on April 25th 1915. Under the covering fire of the Royal Navy's guns, the British 29th division was to storm the beach, overcome the stunned Ottoman defenders, and seize the dominating heights of Achi Baba. However, the Ottoman defenders were deeply entrenched on the cliffs and at the top of the hill. Concealed machineguns and artillery from behind the walls of Fort Sedd el Bahr opened fire on the landing parties, who were slowed to a crawl by barbed wire and the knee-high water. Boats were blown out of the water, and the survivors were forced into cover on the far side of the beach where a few combat ready platoons were finally able to establish a frontline.
Community content is available under
CC-BY-SA
unless otherwise noted.