Champagne-Ardenne
is a
Codex Entry
featured in
Battlefield 1
, introduced in the July 2017 update. It is unlocked by winning one game on
Prise de Tahure
.
Transcript
Edit
Lost Village Of Champagne-Ardenne
Edit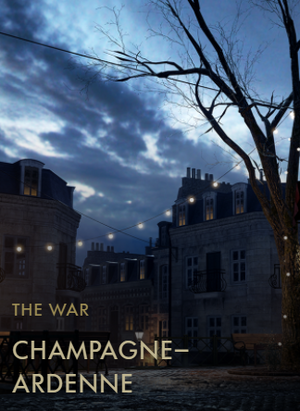 The hilly Champagne region was strategically important and repeatedly fought over in WW1, with the frontline cutting through the "lost villages" of Hurlus, Perthe-les-Hurlus, le Mesnil-les-Hurlus, Ripont and Tahure for much of the war. The Buttle de Tahure (ridge of Tahure) was the main objective of the allied autumn offensive of 1915, with heavy fighting for Tahure village and nearby "Tooth brush" wood and Navarin farm.
In April 1917 French Commander-in-Chief Robert Nivelle assured that his grand Franco-British offensive along the Chemin des Dames would be a decisive breakthrough of the German defenses within 48 hours. On April 17 a supportive attack to the main offensive was launched further down the river Aisne, called the Battle of the Hills of Champagne, which again put Tahure in the line of fire. In the autumn of 1917 shortly before the start of the Battle of Malmaison French and German troops still fought over the Butte de Tahure, ceaselessly attacking each other in night time trench raids.
The Nivelle Offensive was tactically successfully within the most ground captured since the outset of trench warfare, but strategic victory and collapse of the German defenses was not achieved. Large scale mutinies broke out in the French ranks, and Nivelle was replaced with General Petain. The lost villages of Champagne-Ardenne were all completely destroyed over the course of the war and never rebuilt, with only the church altar remaining of Tahure village today.
Community content is available under
CC-BY-SA
unless otherwise noted.