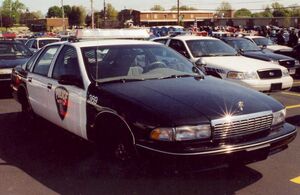 The Chevrolet Caprice was a civilian car manufactured by General Motors, previously common as a police cruiser in many police departments across the United States. Manufactured from 1991 to 1996, Chevrolet Police Caprices (GM RPO Code: 9C1) were manufactured with upgrades over the civilian model including: heavier duty cycle springs and shocks; reinforced engine frames; air to liquid cooling for power steering and transmission; upgraded brakes; upgraded 160A alternator; upgraded seats; rubber floors; additional wiring provisions for department chosen upgrades; 15" steel wheels. Many were equipped from the factory with chrome spotlights. Additional wagon based models were also manufactured with similar specifications under the "1A2" RPO code. Police departments further modified them with separation between the front and backseats, radio communication systems and auxiliary lighting.
From 91-93, the Caprice was sold with a Gen I small block V8, often with a 350 cubic inch size. 1994-1996 saw an upgrade to the Gen II "LT1" small block V8 of the same size. This was the same powerplant behind the Corvettes, Camaros and Firebirds of the same years. The LT1 was conservatively rated by GM at 260 hp and 330 ft-lbs in Caprice, pushing the Caprice to an estimated 0-60 of 7 seconds.
The 1994-1996 Caprice is well loved by veteran law enforcement officers and still held as a benchmark for its combination of officer comfort and space; power and durability.
Battlefield Hardline
Edit
The Chevrolet Caprice is a vehicle featured in Battlefield Hardline. The vehicle appears as both police and civilian variants though they are never available to the player to drive. The fact that it is not the same model as the Squad Car is most likely to prevent confusion in regards to which one is driveable.
The Police Cruiser is equipped with a Federal Signal Streethawk lightbar.
If a person goes up to the Police Cruiser they can hear police radio chatter coming from inside.