It has been suggested that this page be merged into Battlefield Heroes Customization.
The reason given is: Unneeded. You can debate this at the talk page. If nobody objects, go ahead and make the proposed changes.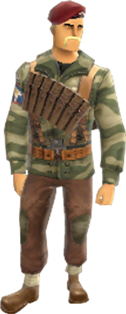 Clothing are cosmetic items equip-able by all heroes. Some can be purchased for set amount of time with Valor Points, but most are restricted to Play4Free Funds for longer amounts of time and purchased permanently. Initially Battlefield Heroes intended to garner all its profit from the micro-transaction of such items, but this has changed since Christmas 2009.
Clothing gives the player no tactical advantage, but merely expands on the light-hearted flair and overall enjoyment of the game, as well as giving the player a more customizable experience. Clothing sets are generally themed towards the two Factions. Villainous themes for Nationals, Heroic themes for Royals.
Below is listed all the clothing and fashion items that have ever been available in the game client. This includes special outfits which are bought out on a regular basis, rare promotion items and even unreleased items.
Bundles tend to either have a set group of items with a common naming, but some come up with random, reused or individual items.
Lastest outfits collection by arbelyjon: Forum Thread
Stand alone outfits
Edit
Those outfits had their own special promotion, but no according counterpart.
Fashion Victim Awards
Edit
The fabolous and amazing fashion victim awards are elected or selected sets from community suggested oufits, requiring a certain amount of specific items.
Main article: Fashion Victim Awards
Community content is available under
CC-BY-SA
unless otherwise noted.