Roblox: DeepWoken - The Loop
Play Sound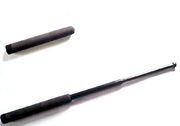 An extendable baton or collapsible baton is a variant of baton used by law enforcment agencies. It is very short when collapsed for easy carry, and can quickly extend to a full-length close-quarters weapon.
Battlefield Hardline
[
]
"Easily concealable, the steel baton extends from the handle instantly when needed. Used to keep the peace and ensure compliance from the unruly."
— In-game description
The Collapsible Baton is a melee weapon featured in Battlefield Hardline as the Law Enforcement equivalent of the Machete. It can be purchased for $1,000. Compared to other blunt weapons such as the Police Baton, it is much slower to swing, but will always inflict a one-hit kill. As with other two-handed melee weapons, the collapsible baton does not perform a takedown animation upon successfully landing a hit.
A golden variant of the collapsible baton may be obtained by completing the "Air Vehicle Syndicate" Assignment. While functioning identically to the normal collapsible baton, kills obtained with the gold baton are counted separately from the normal variant. Also, unlike the normal collapsible baton, the gold baton may be used by both factions.
Battlefield 2042
[
]
Incoming!
The subject of this section is a recent or unreleased addition to a Battlefield game. It may contain speculation or errors.
Have new, relevant information to add? Why not improve this section?
A collapsible weapon appears in the Battlefield 2042 Specialists Gameplay Trailer, used by Webster Mackay. It appears to be spike-pointed, allowing the player to stab with it.