| | |
| --- | --- |
| | This article is a stub as it is considered incomplete. Why not help out? |
| | |
| --- | --- |
| | This information is old and may be outdated. You can help update this information by editing this page! |
The Community Test Environment (CTE) is a feature available in Battlefield Heroes, Battlefield Play4Free, Battlefield 4, Battlefield Hardline and Battlefield 1. The feature allows players to test new gameplay features that may be added in future patches on servers separate from the base game they are played on.
Battlefield Heroes
Edit

The Public Test Environment (PTE) is a test version of Battlefield Heroes first introduced in March 2010.[1][2] It allowed players to test and provide feedback of some new features and items before they would be implemented in the main game, and was only open for a few weeks at a time. The PTE required players to create and use test accounts and characters and did not carry over any progress to the main version of the game. Additionally, instead of purchasing Battlefunds
or Play4Free Funds
, players were given test currency in order to purchase items in development.
Restricted Test Environment
Edit
The Restricted Test Environment (RTE) is a testing environment similar to the PTE, however it is heavily restricted to only approved players. The RTE tested features and content that could potentially break accounts or cause sensory overload.[3]
Battlefield Play4Free
Edit
The Public Test Environment was a test version of Battlefield Play4Free, functioning in a similar manner as the PTE in Battlefield Heroes.
Battlefield 4
Edit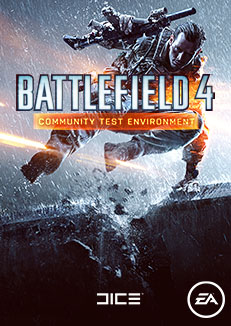 Introduced to Battlefield 4 on May 8, 2014 for PC and Xbox One on July 6, 2015, the feature was developed by DICE Los Angeles to get feedback directly from the players themselves and adjust gameplay accordingly in response to the numerous issues that plagued Battlefield 4 after release as well as help in the development of Battlefield Hardline.
The feature puts players in a completely separate version of Battlefield 4 and Battlelog, requiring players to create new soldiers in order to participate. As such, gameplay within the CTE does not affect a player's soldier in the actual game. While the CTE is only available on PC and Xbox One, DICE LA plans to eventually implement changes to all platforms. The CTE is currently only available for Premium players due to limited space, though DICE plans to make it available to all PC players in the future. Premium members on consoles also have access to the Community Test Environment on PC and do not need to own a copy of the game.
On March 11, 2016 DICE LA confirmed that the Battlefield 4 CTE would no longer be receiving any new updates.[4]
How to Join
Edit
Read and accept the terms and service
Login to Origin
Launch Origin and download CTE game client
Install the Battlelog browser plugin
Visit Forums at http://cte.battlelog.com/bf4/forum/ to see the CTE Guidelines
Testing Initiatives
Edit
The CTE is updated with new initiatives in regular intervals which control which servers are up and running, and what game-modes are available to play at any given time. So far, two initiatives have take place.
Initiative #1: "Netcode" improvements
Edit
The first initiative was focused on network improvements, and had five patches during testing. Much of the testing during this initiative resulted in the changes added in the June 3 patch to the retail game.
The first patch's focus was on gathering server performance data after adding server improvements, as well as ensuring there were no issues that resulted from the changes. A significant addition in the patch was that the player tickrate was increased from 10Hz to 30Hz. As a result, a majority of players reported that engagements were much smoother and more accurate.
Patch contents:
Fix for explosion packs not being shootable sometimes
Fix for reducing damage mismatch between client/server
Fix for third person player orientation mismatch
Character collision improvements
Improvements for client side packet loss
Various server performance improvements
High Frequency/High Priority update ("Tickrate" improvements)
The second patch was used to check if the tickrate improvements were still working as intended. Due to some players experiencing increased packet loss from the higher tickrate, the High-Frequency Network Update option was added client-side, allowing players to lower it to their needs.
Patch contents:
High-Frequency Network Update client option
Dampened explosive camera shake
Possible fix for PC chat delay
New maps: Operation Metro 2014, Wave Breaker (enabled later)
Hainan Resort: Under-terrain exploit fix
Other unmentioned small tweaks
The third patch of the initiative was focused on testing that the new FrameHistoryTime value of 1.0s for servers did not have a negative impact on the game and that the "Deathshield" bug, (which caused ragdolls of dead players to stop grenades and other projectiles), was completely fixed. Support for a competitive version of Obliteration called Obliteration Competitive was also added in the update, along with a fix for a jet altitude bug.
Patch contents:
Changed the FrameHistoryTime from 1.5s to 1.0s
Deathshield fix
Added support for the Obliteration small competitive mode
Operation Metro 2014 exploit fix
PC-Client stability improvement
High Altitude Jet fix
Patch four was released to fix issues discovered in the testing of Obliteration Competitive, and to insure that the changes did not affect normal Obliteration.
Patch contents:
Added netcode high frequency kill switches to disable feature if server performance goes below a certain limit
Changed the way FOV slider option works – the UI now correctly displays vertical FOV
Improved the Uniform Soldier aiming based on CTE player feedback
Added Jet 3P rear view camera
Implemented FOV slider for vehicle 3P chase camera (option)
Potential fix for Hardcore killcard not showing up properly
Visual fix for weapon sticking out of ragdoll and rotating weirdly
Save file location has been separated from BF4 folder
Obliteration Competitive fixes

Fixed an issue where on some maps players would be invulnerable
Tweaked some map layouts
Round won't end if a bomb is planted and time has expired
The final patch of the initiative included fixes based off player feedback, and to insure they'd been addressed correctly.
Patch contents:
Jet rear-view camera on separate button (Free look)
Russian Stealth jet ECM visual effect fix
Uniform Soldier Aiming improvements (Based on CTE player feedback)
Following this patch, the majority of the changes tested during the initiative were implemented in the retail game on the June 3, 2014 update. A few changes were held back for further testing and could potentially be released as a future update.
Initiative #2: Core Gameplay
Edit
The second initiative launched was focused on Core Gameplay, referring primarily to "central pieces of the game" and how the game behaved with the netcode changes from the previous initiative.
The first phase of the initiative was focused on fixes/improvements for equipment and weapons that were to be shipped with Dragon's Teeth, as well as adding the bulk of the content from the expansion to insure that there were no issues with game stability. To stress-test this fully, all equipment was unlocked with the first patch for all players and the Ballistic Shield was added for use.
After a about a week of receiving feedback about the performance of the Ballistic Shield, a small second patch was released to tweak the Shield's abilities to better match the designer's intent for the gadget's use. Along with this, the remaining Dragon's Teeth weapons, (the DEagle .44, Unica 6, CS5, MPX, and Bulldog), were also added into the build for weapons testing. All equipment remained unlocked for all players.
Patch contents:
Shield bash damage, distance & spread tuned – no more one-hit kills.
Shield incoming projectile damage improved. Single tank AP-round now kills.
All Dragon's Teeth weapons available for testing.
Initiative #3: CTE Prototypes
Edit
The third initiative launched was focused on testing new features for the game, which were classified as "prototypes" as there was no guarantee they would be added to the retail version of the game.
The first patch for the initiative introduced two new "prototypes" for the players to test: improved Attack Helicopter flight physics and a fix for headglitching.
The improved attack helicopter physics allow them to be more maneuverable and capable of doing flips. The Z-10W was the first attack helicopter to have these physics applied to it, and it replaced the AH-1Z Viper on some of the maps in order to allow for players from both the US and Chinese factions to test it.
The headglitching fix applied in the patch made it so that bullets would come out of the barrel of the gun instead of coming from the player model's eyes, therefore stopping players from firing their guns while using certain types of cover. The guns that were tested with this feature at the time of the patch were the M1014, M40A5, M4, MG4, QBU-88, SCAR-H, DEagle .44, and the MPX.
Patch contents:
Collision fixes for Lumphini Garden, Pearl Market, Zavod 311, Rogue Transmission, Propaganda, Sunken Dragon, Flood Zone, Lancang Dam, Operation Métro, Hainan Resort, and Operation Locker.
Improvements to the Kobra sight to make it look closer to what it was around the time the Fall patch was released while still being visible when facing snow.
Corrected the Bulgarian and Estonian flags on their respective dog tags.
Fixed bullet tracers showing through objects after hitting them.
Implemented first pass of Squad Spawn 2.0, which makes it so that if a squad member is suppressed, the player cannot spawn on them.
Added vehicle occupancy and vehicle information to spawn screen.
Enabled PC gamepad assist for testing purposes.
New soldier collision fixes.
Changes to Obliteration Competitive.
Battlefield Hardline
Edit
The Community Test Environment had previously been announced to eventually be made available in Battlefield Hardline following release. On April 28, 2015 it was announced along with the 1.02 patch of the game that the CTE would be made available in May 2015. Functioning in a manner similar to the Battlefield 4 iteration, it was released on May 25, 2015, being made only available on PC.[5]
How to Join
Edit
Click Sign-up to join the Community Test Environment.
Read and accept the Terms of Service and Agreement
Log into Origin with existing account username and password (your account must have Premium activated in order to proceed).
Start Origin and download the new Battlefield Hardline CTE game client that now should be visible in the My Games library.
Install the Battlelog browser plugin when prompted, or use the orange arrow icon on the top menu bar.
Make certain browser is not blocking pop-ups. Check the browser address bar to unblock Battlelog if so.
Review the CTE Guide pop-up.
More information about the CTE can be found by visiting the Forums on http://cte.battlelog.com/bfh/forum/
Testing Initiatives
Edit
Battlefield 1
Edit
DICE had stated that the Community Test Environment will eventually be made available in a similar manner to Battlefield 4 and Battlefield Hardline.[6]
Signups for CTE access are currently available through the Battlefield Companion app and in-game menu.[7] As before, prospective players will need to be Battlefield Premium members in order to participate.
To register for the Community Test Environment you need to use the Battlefield Companion app (more info on official page)[8]
Install the Companion app and login with your EA login
From the Main Menu, press the "OPTIONS" button (a gear icon in the upper-right), and select "COMMUNITY TEST ENVIRONMENT"
Read the agreements and press "I AGREE" once you do agree.
Registration will be successful if you meet the detailed requirements. If successful, your Origin client will now show a new game called Battlefield 1 Community Test Environment. Download & Install it.
Xbox One & PlayStation 4
Edit
on 2 August 2017,[9] Battlefield 1 Community Test Environment is available on Xbox One and PlayStation 4[10]
on 15 March 2018, DICE announced new Community Test Environment updates will available for PC only while Xbox One and PlayStation 4 clients are going down.[11]
on 10 April 2018, DICE replaced Community Test Environment with Incursions. Players who have access to CTE on Console will get access to Incursions.
Start up Battlefield 1 base game
Go to the "More" tab on the main menu
Select "Battlefield 1 Incursions"
Follow the on-screen instructions
"Battlefield 1 Incursions" will become available in games collection
Download and install the separate game client for "Battlefield 1 Incursions" via the Origin/PlayStation Store/Xbox Marketplace
Launch "Battlefield 1 Incursions" from Origin/PlayStation/Xbox home screen
The terms and service originally forbade participants from posting video footage of CTE until May 22, 2014.
References
Edit
External Links
Edit
Community content is available under
CC-BY-SA
unless otherwise noted.