Raise a Floppa - The Loop
Play Sound
For other forms of currency in the Battlefield series, see Currency
Two types of currencies are available in Battlefield V, Company Coin and Battlefield Currency.
Company Coin
[
]
Company Coin, represented with the symbol
, is the main currency featured in Battlefield V. Company Coin is used to unlock weapon and vehicle specializations as well as cosmetic options for soldiers, weapons, and vehicles in the The Armory.
It can be obtained through the completion Of special and daily assignments as well as career progression. Once players reach career rank 50, they will be awarded 25
for every 1000 points obtained in a round.
Battlefield Currency
[
]
Battlefield Currency, popularly known as Boins, is the premium version of company coin. It was released on April 4, 2019 for purchase with real world money in currency packs online or at certain retailers.[1] Battlefield Currency can be used to obtain the following:
Currency Packs
[
]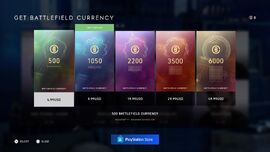 Starter Pack - $4.99 USD
Currency 500 - $4.99 USD
Currency 1050 - $9.99 USD
Currency 2200 - $19.99 USD
Premium Starter Pack - $29.99 USD
Currency 3500 - $29.99 USD
Currency 6000 - $49.99 USD
Items
[
]
Trivia
[
]
There was a bug that did not award level 50 players with company coin after matches. It was fixed in two server updates in January 2019. All players that were affected by this bug were retroactively awarded company coin on January 24 2019.
Battlefield Currency was scheduled to be introduced on January 17th, 2019, but due to the aformentioned glitch their implementation was delayed until April.
Obtaining a Tier skip as a weekly Tides of War reward will award players 100 boins if they have already obtained the maximum chapter rank.
References
[
]