"Think you've got what it takes to go toe-to-toe with the best of the Battlefield Hardline community?"
— Official description
The Competitive Match system is a now-defunct dedicated matchmaking system for Battlefield Hardline introduced alongside the Getaway expansion. Similar to Incursions in Battlefield 1, Competitive Match puts players in special 5v5 gamemode matches with an emphasis on competitive play, and ranks players on a scoreboard each season based on their performance.
Overview
[
]
Competitive Match matchmakes players with others in their Skill Rating rank into two teams of five in matches of the gamemodes Rescue, Crosshair, and Squad Heist. Maps and gamemodes available in Competitive Match are rotated in themed seasons picked by Visceral every few weeks. All players can access and play in the standard league, which features Rescue and Crosshair on the default and Blackout maps, while Premium players can play in the exclusive Premium league as well, which features maps from the paid expansions as well as the Squad Heist gamemode.
Rewards
[
]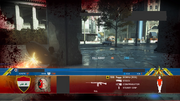 Participating in 25 Competitive Matches will award the "Test Your Mettle" achievement/trophy.
Players who were among the top 5 in the world rankings when the season ended received a unique specialised killcard that they could equip, with gold and blue stars on the top of it. The number 1 player in the rankings at the season's end was also named on the competitive matchmaking screen for the duration of the following season as last season's winner.[1]
Closure
[
]
As of November 2016, the gamemode was abandoned by the developers: instead of having the next season lasting a few weeks, timings were reset so the next season would last 4 years, ending on the 31st December 2020.[2] After this date occurred, no further matches could be played: the loading screen stated that a new season was coming soon, but no further season ever emerged. On the Battlelog website, the time clock went negative - whereas prior to the 31st December 2020 it had shown the number of hours and days left (e.g. "1 day and three hours left before the season ends"), now it showed the negative equivalent (e.g. -1 days and 3 hours until the season ends"). Competitive matchmaking has therefore come to a permanent end.
Skill Rating Ranks
[
]

Competitive Match features a total of 10 available ranks. Each rank is obtained based off a player's skill level and whether or not the player and their team are successful in winning a match. Both Premium and Standard Leagues have separate ranks for players. The third rank, "Master Trooper", is the default rank for all players when first entering Competitive Match.
| Rank | Image | Rank Title |
| --- | --- | --- |
| 1 | | Cadet |
| 2 | | Trooper |
| 3 | | Master Trooper |
| 4 | | Sergeant |
| 5 | | Master Sergeant |
| 6 | | Sergeant Major |
| 7 | | Silver Sheriff |
| 8 | | Master Sheriff |
| 9 | | Elite Sheriff |
| 10 | | Elite Gold Captain |
Seasons
[
]
Premium and Standard Leagues in Competitive Match have their own seasons that run for two weeks. In Premium League, each season has its own theme, with competitors playing Squad Heist or Rescue on two specific maps the entire season, including expansion maps. Due to Premium members having two week early access to expansions, the Premium League is one season ahead of Standard League.
Premium League
[
]
| Season Number | Dates | Season Name | Gamemode | Maps |
| --- | --- | --- | --- | --- |
| 1 | January 12, 2016 - January 26, 2016 | Grisly Getaway | Squad Heist | |
| 2 | January 26, 2016 - February 9, 2016 | | | |
| 3 | February 9, 2016 - February 23, 2016 | | | |
| 4 | February 23, 2016 - March 8, 2016 | | | |
| 5 | March 8, 2016 - March 22, 2016 | Bloody Betrayal[3] | Squad Heist | |
| 6 | March 22, 2016 - April 5, 2016 | Betrayal Bedlam | Squad Heist | |
| 16 | August 16, 2016 - August 30, 2016 | Bloody Betrayal[4] | Squad Heist | |
| 23 | November 22, 2016 - December 31st, 2020 | Bloody Betrayal | Squad Heist | |
Standard League
[
]
Season Number
Dates
Season Name
Gamemode
Maps
1
January 26, 2016 - February 2, 2016
Evening Extraction[5]
Rescue
2
February 2, 2016 - February 16, 2016
L.A. Luxury[6]
Rescue
3
February 16, 2016 - March 1, 2016
4
March 1, 2016 - March 15, 2016
Rural Rescue[7]
Rescue
5
March 15, 2016 - March 29, 2016
Night Negotiation
Rescue
15
August 2, 2016 - August 16, 2016
Outdoor Operations[8]
Rescue
23
November 22, 2016 - December 31st, 2020
Bank Bedlam
Rescue
Crosshair
References
[
]