This article is a disambiguation page for Customization.
The following is a list of articles that share the same, or very similar, titles. Please follow one of the links below.
If an internal link led you here, you may wish to change the link to point directly to the intended article.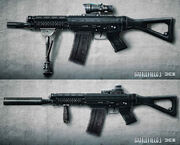 Customization is a feature that appears in the Battlefield series. It allows players to customize the loadout of their soldier's kit with their own choice of weapons, accessories, gadgets, or specializations after they have unlocked them. Some installments also allow players to customize the appearance of their weapons, vehicles, and soldier.
Battlefield Vietnam
[
]
Battlefield Vietnam features several customization options for soldiers. While choosing a class, players are given the choice of two body and head types. Options vary from faction to faction but do not provide players with any gameplay advantages.
Battlefield 2
[
]
In Battlefield 2, customization comes in the form of unlocks. It only allows players to switch their primary weapons.
Battlefield 2142
[
]
In Battlefield 2142, Customization allows players to choose a primary weapon, two gadgets, a squad leader gadget, and body armor type.
Battlefield: Bad Company
[
]
Customization in Battlefield: Bad Company is similar to Battlefield 2, only allowing players to choose their primary weapon.
Battlefield Heroes
[
]
Battlefield Heroes allows players to customize their soldiers through the use of clothing, Abilities, and Widgets.
Battlefield: Bad Company 2
[
]
Customization in Battlefield: Bad Company 2 allows players to choose their primary and secondary weapon, two personal specializations, and one vehicle specialization.
Battlefield 3
[
]
Customization in Battlefield 3 allows the customization of soldier and vehicle loadouts. Each kit contains a slot for primary and secondary weapons, two gadget slots, and a specialization slot. Soldier camouflage is also expanded. Vehicle loadouts consist of primary weapon slot, a specialization slot, and a countermeasure gadget slot. Weapons have three attachment slots. The three attachment slots for primary weapons are optics, barrel, and grip.
Battlefield 4
[
]
Customization in Battlefield 4 has been further expanded. Primary weapons now have up to five customizable points, and sidearms have three customizable points, allowing accessories such as optics, barrel attachments, underbarrel attachments, and more to be added. Players can also choose which gadgets to utilize as well as vehicle armaments.
Battlefield Hardline
[
]
Customization in Battlefield Hardline is similar to Battlefield 4, featuring the same customizable attachments and accessory slots for weapons as well as camouflage. The Battlefield Hardline: Betrayal expansion introduces the Gun Bench which allows Battlefield Premium players to increase the level of customization even further with features such as different red dots for optic sights or player made camouflage.
Battlefield 1
[
]
Customization in Battlefield 1 is simplified compared to previous games. Battlefield 1 offers a range of customization presets for each weapon, known as Weapon Variants. These allow the player to quickly choose a range of attachments for a particular weapon, and occasionally altering the available selective fire modes and ammunition type used. Specific customization is limited to attaching/detaching the Bayonet, changing the Iron Sights, changing the weapon skin, and two special customization, recoil direction and zoom distance.
As before, players can also choose a sidearm, two gadgets, a grenade type, and a melee weapon.
Battlefield V
[
]
The Company in Battlefield V allows players to customize their loadouts. Each class contains a Combat Role slot, primary weapon and sidearm slots, two gadget slots, a grenade slot, and a melee weapon slot. Weapons and vehicles allow the customization of specializations to affect their performance.
The Company also allows the customization the visual of soldiers, weapons, and vehicles for both the Allies and Axis factions. Appearance customization options are only aesthetic and only affect gameplay in terms of camouflage.
Battlefield 2042
[
]
Battlefield 2042 introduces the Plus System that allows players to customize weapon attachments while on field. Players may customize the appearance of Specialists, weapons, and vehicles with cosmetics which are earned through leveling up, completing Mastery Tiers, and events.
The game also introduces Player Cards which can be custmoized to display various images, Tags, and Badges.
Trivia
[
]