| | |
| --- | --- |
| | This article is a stub as it is considered incomplete. Why not help out? |
| | |
| --- | --- |
| | This article is currently under construction. It may contain little or inaccurate information. |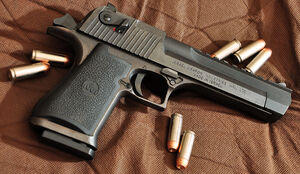 The
Desert Eagle
is a large-framed semi-automatic pistol designed by Israel Military Industries and Magnum Research. It can be chambered for either the .50 AE, .44 Magnum, or .357 Magnum cartridges, with a respective magazine capacity of seven, eight, or nine rounds.
Battlefield Play4Free
Edit
"Introducing a hand gun previously unseen in any previous Battlefield Games... the Deagle! Also known as the Hand Cannon, amongst its fans. Designed in the US and Manufactured in Israel this weapon is one of the biggest powerhouses of all handgun sporting a selection of models all of which carrying massive rounds for huge stopping power, and the kick to go with it."
— Official Website Description
The DEagle 50 is a secondary weapon featured in Battlefield Play4Free. It has high stopping power, and a moderate rate of fire. Unfortunately, it also has a high damage drop-off and difficult recoil to manage at longer ranges.
Battlefield 4
Edit
The DEagle 44 is a weapon featured in the Battlefield 4: Dragon's Teeth expansion. It is unlocked upon the completion of the Recoil Kinetics assignment.
The DEagle 44 shares the same damage as the M412 REX, SW40, and Unica 6, but has the quickest reload and largest capacity. Its firerate is comparable to the latter two.
Although it is very accurate on single shots, its spread and recoil can make fast firing inaccurate. It has a decent bullet velocity, comparable to the revolvers.
Compared to the .44 Magnum, it is at a considerable advantage for close combat with its large capacity and higher firerate, while the .44 Magnum is more powerful and accurate over longer ranges.
The DEagle 44 also has an advantage over all revolvers of being able to use a suppressor, making it suitable for a stealthy approach.
Pre-release
Edit
Weapons of

Battlefield 4

Assault Rifles
Personal Defense Weapons
Light Machine Guns
Sniper Rifles
Carbines
Designated Marksman Rifles
Shotguns
Sidearms
Battle Pick Up
Unusable Weapons
Battlefield Hardline
Edit
| | |
| --- | --- |
| | This section is a stub. It is short and in need of expansion. Why not improve this section? |
"On the side of this weapon is written "Bald Eagle .50". This hand cannon has high damage, but accuracy is not great due to recoil."
— Official Description
The Bald Eagle is a weapon featured in Battlefield Hardline. It is available to the Enforcer kit as the class' assignment weapon, requiring the completion of Enforcer Assignment 2. It is also used by the VIP in the Crosshair gamemode with a Gold Paintjob. It is the most powerful sidearm available to the Enforcer, but also has the smallest capacity and the highest recoil.
Battlefield Play4Free
Edit
Battlefield 4
Edit
Battlefield Hardline
Edit
Battlefield 1
Edit
References
Edit
Community content is available under
CC-BY-SA
unless otherwise noted.