DR. 1 is a Codex Entry featured in Battlefield 1. Detailing information about the Fokker Dr.I, it is unlocked by obtaining twenty kills with Fighter planes.
Transcript
Edit
THE DR. 1 - THREE WINGS TO RULE THEM ALL
Edit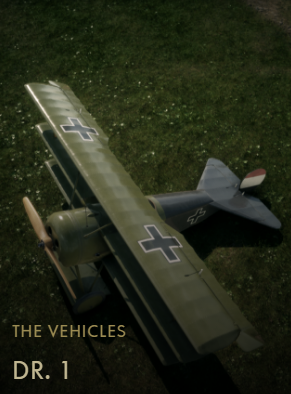 What's better than two wings? Obviously the answer is three wings. Those three wings carried legendary ace pilots such as Baron von Richthofen, known as the "Red baron" and legend ace pilot Werner Voss.
In 1917, this German plane offered exceptional maneuverability but it was also considerably slower than Allied fighters from the same year. The wing design also allowed for reduced wing surface on each wing - an advantage in cockpit visibility.
MAKING SLIDING FLAT TURNS IN THE SKY
Edit
Firsthand accounts tell of 7 allied pilots flying in behind Werner Voss's DR.1, lining up and having Voss in their sights, when Voss executed spectacular sliding flat turns. He was literally turning the plane in the opposite direction of flight for brief moments, allowing him to fire bullets back towards the chasing pilots. Voss managed, even though outnumber 7 to 1, to put bullets in all seven allied planes engaged in this legendary dogfight.
One of the allied pilots wrote in a letter "I take my hat off to Voss, he was the bravest fellow and the best scrapper I have ever met."
Community content is available under
CC-BY-SA
unless otherwise noted.