Demolitions is a Codex Entry featured in Battlefield 1. It is unlocked upon obtaining a kill with falling debris.
Transcript
Edit
DIGGING DEEPER - DEMOLITIONS OF THE GREAT WAR
Edit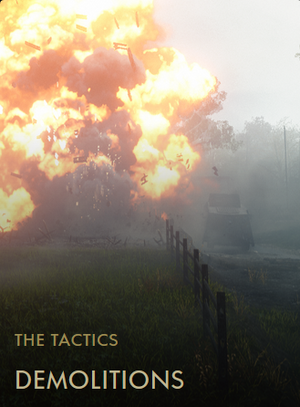 "Gentlemen, we may not make history tomorrow, but we shall certainly change the geography"
This was a quote from General Sir Charles Harington in 1917, on the eve before 19 massive craters would explode in what ranks among the largest non-nuclear explosions of all times. The explosions were reportedly heard in London and in Dublin.
THE LARGEST NON-NUCLEAR EXPLOSIONS OF ALL TIMES.
Edit
As the war on the Western Front and the Italian Front dug itself deeper into a landscape where trench lines and fortifications took a firm grip and turned the warfare into a war waged by the defender, new ways of exploiting the stalemate saw the light of day. Or perhaps we should say darkness, because one of the ways to wage war was to dig tunnels deep underneath the ground or into the mountains and deep beneath enemy lines. There, tunneling companies would plant explosives that would then be remotely detonated and create a gap, or several gaps in the enemy line.
The remains of the craters on Messines Ridge can be seen to this day as massive holes in the French countryside. Scars of entire mountainsides being blown to smithereens can be seen in the Italian Alps.
Community content is available under
CC-BY-SA
unless otherwise noted.