Dreadnought is a Codex Entry featured in Battlefield 1. It is unlocked by obtaining ten kills with the Dreadnought.
Transcript
Edit
THE HMS IRON DUKE
Edit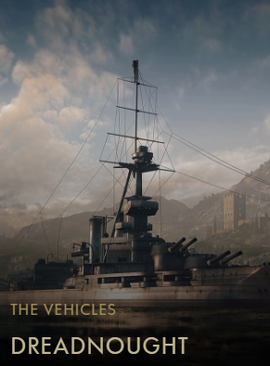 A behemoth armed to the teeth with ten 340mm guns and a plethora of other guns, the HMS Iron Duke was the first of the super-dreadnought class battleships coming out of the dockyards in Portsmouth. She saw action at the Battle of Jutland where she engaged several German battleships and sank a number of destroyers. In 1918 flying-off platforms for planes were intalled on the top of two turrets.
A BEHEMOTH RESETTING NAVAL POWER OVERNIGHT
Edit
With the launch of the dreadnought ship class, the scale of naval power was reset overnight. As a result, the naval arms race was deeply rooted in the causes that led up to the First World War.
Community content is available under
CC-BY-SA
unless otherwise noted.