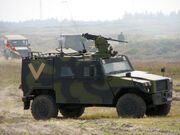 The Eagle IV, also known as the Eagle MTV, is a light utility vehicle based on the American HMMWV and is built by MOWAG in Switzerland and General Dynamics in Germany. The Eagle IV is the fourth iteration of the original Eagle I, and has been upgraded with a more durable chassis and has been reduced in width to be able to fit into a C-130 Hercules for air transport.
The German Army is the largest buyer of the Eagle IV, ordering over 600 vehicles since its introduction in late 2004. It has seen use in the war in Afghanistan under the German Army, as well as the Danish Army since its inception. The vehicle mounts a remote weapon system by default, but vehicles can be purchased with a standard ring mount system for a machine gun mount.
Battlefield 2: Modern Combat
Edit
In Battlefield 2: Modern Combat, the Eagle MTV is the light armored vehicle of the European Union. It performs nearly identical to its USMC counterpart and only differs in size, as it is a bit larger than the HMMWV. The vehicle is not as fast as the PLA FAV, but it is better armored against attacks and its occupants are not as exposed to incoming fire unlike the FAV.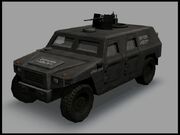 Community content is available under
CC-BY-SA
unless otherwise noted.