For the standard entry, see M1897 Shotgun (Codex Entry)

The Elite M1897 Shotgun is a Codex Entry featured in Battlefield 1. It was introduced on February 14th, 2017 in the Winter Update alongside eight other Elite Codex Entries. It is unlocked upon obtaining 500 kills with the M97 Trench Gun.
Transcript
Edit
ELITE M1897 SHOTGUN
Edit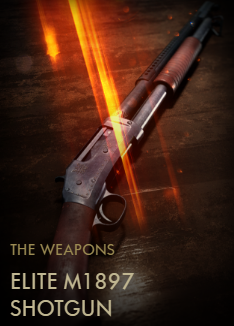 The US government ordered nearly 20,000 M1897 shotguns in 1918, and thousands more are supposed to have been converted from commercial versions. Several other shotgun models were deployed alongside it on the front in small numbers, but the M97 was the most prevalent and became synonymous with American use of shotguns in WW1, and there are many legendary stories around its effectiveness in combat. One post-war article describes a US officer and a German mass assault upon his trench. The Americans let the Germans get close, and then about 200 shotgun-equipped soldiers opened up, "the front ranks of the assault simply piled up on top of one awful heap of buckshot-drilled men." In Laurence Stallings book "The Doughboys", there is mention of a Sergeant from Chicago who was making an assault on a German concrete pillbox under heavy fire. The Sergeant made it inside the back entrance of the pillbox: "Two buckshot blasts and the twenty-three performers left on their feet surrendered." Another legend is that of Sergeant Fred Lloyd, who on 27 September 1918, equipped with an M97 Trench Gun advanced alone into a German-held village. He been methodically clearing the village, firing and pumping the shotgun on the move. After routing thirty German soldiers Fred Lloyd finally collapsed with exhaustion.
Already in July 1918 German newspapers reported on the "shotgun barbarism", and the Cologne Gazette expected that "tomahawks and scalping knives will soon appear". At the same time, many American civilians reacted to these outcries, pointing out that the Germans were themselves using poison gas and bludgeoning weapons. During the battles of 1918 the Germans captured several American soldiers equipped with M97 shotguns, and finally on 19 September 1918 the German government filed a formal diplomatic protest, complaining that the American use of shotguns was against The Hague Convention. Germany threatened that that any US prisoners of War; "found to have in his possession such guns or ammunition belonging thereto forfeits his life". On 26 September USA responded to the complaint, arguing that a shotgun blast can be compared to shrapnel and fragmentation grenades and is not more cruel than other weapons deemed legal. The US Government also responded that if German was to carry out its threat there would be reprisals. The First World War ended six weeks later, and there are no records of Germany ever executing any prisoners of war found with shotguns.
Community content is available under
CC-BY-SA
unless otherwise noted.