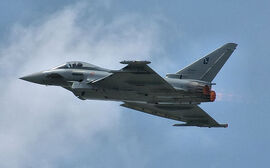 The Eurofighter Typhoon is a twin-engine, canard-delta wing, multirole fighter. The Typhoon was designed by a consortium of three companies, EADS, Alenia Aeronautica and BAE Systems, working through a holding company, Eurofighter GmbH, which was formed in 1986.
The project is managed by the NATO Eurofighter and Tornado Management Agency, which acts as the prime customer. Eurofighter Typhoon is being produced serially by the EADS, Alenia Aeronautica, and BAE Systems consortium. The aircraft is being procured under separate contracts, named tranches, each for aircraft with generally improved capabilities. The Typhoon has entered service with the Austrian Air Force, the Italian Air Force, the German Air Force, the British Royal Air Force, the Spanish Air Force, and the Royal Saudi Air Force.
Battlefield 2
[
]

The Eurofighter Typhoon is fearured in the Battlefield 2: Euro Force expansion as one of the two fixed-wing aircraft operated by the European Union, the other being the F-15E. Its MEC counterpart is the MiG-29.
The Eurofighter is armed with six heatseeking anti-air missiles, two unguided bombs, as well as a 30mm autocannon. However, the Eurofighter Typhoon's 30mm cannon has six-hundred rounds, as opposed to the three-hundred round reservoir of the MiG-29, which serves as the Middle Eastern Coalition counterpart to the Eurofighter. The above traits, coupled with the relatively small splash damage of the Eurofighter's two-bomb payload makes the aircraft best suited to air-to-air combat.
One thing to be aware is, unlike other fighters of its class, the bombs are loaded in the wing tips instead of near the fuselage. So while taking off, one must be aware not to tilt to either side and take off otherwise the wings and the bombs can scrape the ground, cause noticeable damage and sometimes even reaching health levels near to exploding the aircraft.
Appearances
[
]
Gallery
[
]
Trivia
[
]
The Eurofighter tail code is ZH588, which is the same tail code for the second Eurofighter prototype (first for the RAF and the second Development Aircraft (DA)) to fly on April 6th 1994.
External links
[
]