Cut content
The subject of this article, F-16 Fighting Falcon, has been cut from the final version of a Battlefield game.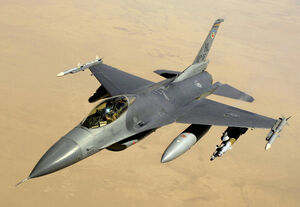 The General Dynamics F-16 Fighting Falcon (also known as its early name, Viper, by its pilots) is a multi-role jet fighter aircraft originally developed by General Dynamics for the United States Air Force as a result of the Lightweight Fighter Program in 1971. Designed as an air superiority day fighter, for superb maneuverability and a cheap price, it evolved into a successful all-weather multi-role aircraft. Over 4,400 aircraft have been built since production was approved in 1976, currently serving 24 countries.
Battlefield 3
Edit
The F-16 was slated to appear in Battlefield 3. The cockpit is featured in the My Life trailer, and later in the end of the full Fault Line gameplay trailer.
However, it was cut before release and does not appear in the final version of the game, its role instead being filled by the F/A-18E Super Hornet as the US main fighter jet.
Some of the F-16's cockpit materials were re-used for the Su-35BM Flanker-E.
While removed from the final game, the F16 is used for the Jet Service Star & Service Medal Dog Tags
The aircraft was supposed to appear on the also cut Shoot House multiplayer tutorial, as a spawning marker for the vehicle can be found there.
External links
Edit
Community content is available under
CC-BY-SA
unless otherwise noted.