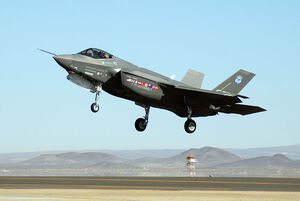 The
Lockheed Martin F-35 Lightning II
is a family of fifth-generation, single-seat, single-engine stealth multirole fighter that appears in
Battlefield 2
.
The F-35B in Battlefield 2 is the only STOVL fighter jet in the game and one of the 4 Fixed-Wing aircraft (F-35B, F-18, F-15E, A-10) used by the United States Marine Corps. It has no PLA or MEC counterpart and is only found on the USS Essex (LHD-2)
Compared to the F-18
The F-35B has the same armament as the F-18 and both aircraft are single-seated, but the F-35B trades maneuverability and speed for VTOL/STOL capabilities. Thus making the F-35B easier to land, but making it slower and more vulnerable.
Appearances
The F-35 appears on every map with a American amphibious assault ship, and does not appear on any 16 player sized maps due to the lack of any amphibious assault ships on any 16 player sized maps.
Images