Forgotten Deserts is a Codex Entry featured in Battlefield 1. It is unlocked for winning a match in any gamemode on Sinai Desert.
Transcript
Edit
SINAI AND PALESTINE CAMPAIGN
Edit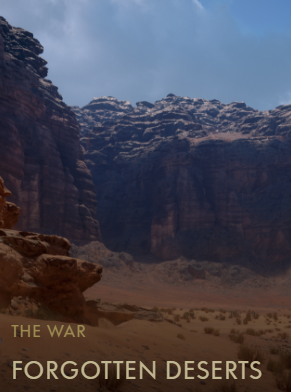 After the Ottoman Empire failed to take the Suez Canal from the British in early 1915, the British pursued them into the desert and a new front was created that lasted till the end of the war.
Desert fighting was very different from the battlefields of Europe, but tanks made their appearance even here at the Second Battle of Gaza. The goals were Damascus, Aleppo, and the prevention of an operational Berlin-Baghdad railway for the Central Powers, who had already connected Berlin with Constantinople.
The British also helped the Arab Revolt against the Ottomans that grew in strength throughout the region. When Damascus fell, the revolt was complete. The lasting result was British control over Palestine and French control over Syria and Lebanon. The lines drawn by this conflict are still in dispute to this day.
Community content is available under
CC-BY-SA
unless otherwise noted.