German Anti-Tank Tactics is a Codex Entry featured in Battlefield 1. It is unlocked upon destroying all Field Guns in the chapter Over the Top in the mission Through Mud and Blood.
There are a total of thirty-six field guns in the mission. In order to avoid resetting progress, it is advised to play the chapter on easy difficulty and to not reload any checkpoints.
Transcript
Edit
GERMAN ANTI-TANK TACTICS
Edit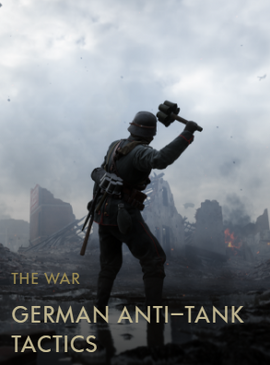 Germany adapted to the Allied tanks with a variety of different tactics and tools. Anti-tank groups were formed around energetic leaders. These groups would use tools like anti-tank guns, anti-tank rifles and trench mortars. The Germans also built smaller forts that were organized for anti-tank defense equipped with searchlights and field-guns. These were placed a kilometer behind the main lines to meet the tanks there in case of an armored breakthrough.
SPECIAL ANTI-TANK UNITS WERE FORMED TO MEET THE THREAT OF THE TANKS
Edit
They also developed an abundance of different barriers like steel posts, concrete blocks, covered pits filled with water, ditches with anti-tank mines or rails driven vertically into the ground. Anything to stop or slow down the progress of the tanks.
Community content is available under
CC-BY-SA
unless otherwise noted.