Gertrude Bell is a Codex Entry featured in Battlefield 1. It is unlocked by killing one of the officers with a bolt-action rifle in the chapter Young Men's Work in the singleplayer mission Nothing Is Written.
Transcript
Edit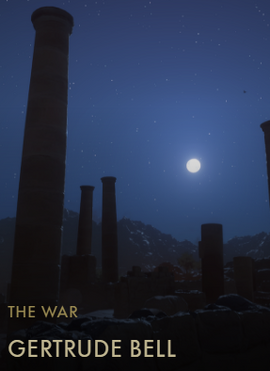 Gertrude Bell was a traveling archaeologist and writer who spoke fluent Persian and Arabic, and had already published many studies on the Middle East before the war broke out.
British intelligence hired her for her expertise to help the war effort in Palestine and at the Suez Canal. She soon found herself in the company of T.E. Lawrence, with who she tried to forge an alliance with the rebellious Bedouins.
As British forces captured Baghdad in 1917, Gertrude Bell was deeply involved in the realignment of Mesopotamia, particularly with the creation of the state of Iraq. She assisted diplomats and politicians like Winston Churchill in installing the rule of King Faisal I.
Community content is available under
CC-BY-SA
unless otherwise noted.