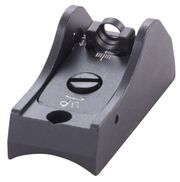 A Ghost Ring is a type of iron sight, obscuring targets less than nearly all other non-optical sights. Because of this, ghost ring sights are commonly installed on combat shotguns and sub-machine guns.
The thin ring minimizes the occlusion of the target, while the thicker front post makes it easy to find quickly.
Battlefield 4
[
]
"Replaces the standard iron sights with a set of rapid acquisition rear ring and front post sights for a clear sight picture."
— Battlelog description
Only available in multiplayer, the Ghost Ring is a sidearm exclusive optical accessory featured in Battlefield 4. It is the first optic unlocked for sidearms, requiring 30 kills to obtain, and is one of three sights available to sidearms, the others being the Mini (RDS) and Delta (RDS).
The attachment replaces the standard Iron Sights of the sidearms with a red illuminated ring and a front post. It offers a much clearer sight picture compared to most of the stock iron sights, and its high visibility aids in quick target acquisition. Compared to the other two sidearm sights, the Ghost Ring takes up a much smaller portion of the screen with its smaller profile, but as it is not a Red Dot Sight its sight picture is not quite as clear. Besides these differences, the sights have the same amount of zoom and ADS speed, leaving the choice between them largely up to personal preference.
Trivia
[
]