Guiding Bess is a Codex Entry featured in Battlefield 1. It is unlocked by guiding Black Bess undetected through the forest in the chapter Fog of War in the singleplayer mission Through Mud and Blood.
The forest has three areas filled with enemies, all of whom must be taken out without being detected. It is advised to complete the area on easier difficulties as it will make enemies less likely to spot the player. Making use of the Lure and patience is the best way to unlock the codex. If the player is discovered, they should reload the checkpoint immediately and try again.
Transcript
Edit
GUIDING TANKS ON FOOT
Edit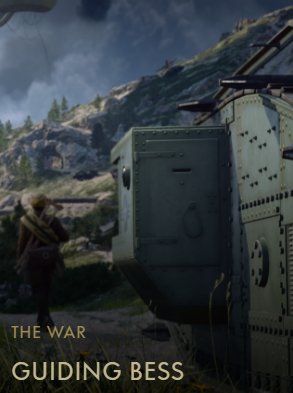 There are many untold stories coming from the First World War. One tells of a captain who was awarded the Victoria Cross for his valor in leading his tanks into the attack whist under heavy fire from the enemy. The citation for his Victoria Cross reads:
"For most conspicuous bravery in leading his Tanks in attack under heavy shell, machine-gun and rifle fire, knowing the risk of the Tanks missing the way, continued to lead them on foot, guiding them carefully and patiently towards their objective although he must have known that his action would almost inevitably cost him his life."
"He was awarded the DSO after the Battle of Beaumont-Hamel in November 1916 for guiding a tank on to its objective by personally walking in front of it."
Community content is available under
CC-BY-SA
unless otherwise noted.