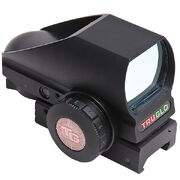 The Truglo Tru-Brite is a multi-reticle 1x 24x33mm magnification optic with a wide field of view. It has two choice of color between red and green dot reticle.
In the Battlefield series, it appears as HD-33.
Battlefield 4
[
]
"Optimized for close to mid range target acquirement with an open circle and dot reticle for easy tracking of targets."
— Battlelog description
The HD-33 (1X) is a primary weapon optic featured in Battlefield 4. Like all other red dot and 1x Holographic sights, it is compatible with the Magnifier (2X).
Singleplayer
[
]
The HD-33 (1X) appears as a preset optic on the QBS-09 and QBZ-95-1.
Multiplayer
[
]
The HD-33 (1X) serves as the Chinese equivalent of the American HOLO and Russian PKA-S 1X Holographic sights. It is the default 1x Holographic sight unlocked for all Chinese, Singaporean, and ACE series weapons through progression, being unlocked for use on all other weapons through Battlepacks.
The sight picture is very clear and unobstructed. The aiming reticle is red and has a central dot with an outer circle. As with all other holographic-sights, it has a 1x magnification.