| | |
| --- | --- |
| | This article is a stub. It is short and in need of expansion. Why not help out? |
| | |
| --- | --- |
| | This article is currently under construction. It may contain little or inaccurate information. |
| | |
| --- | --- |
| | This article contains possible spoilers. Read at your own risk! |
Sergeant Jonathan "Jono" Miller is a playable character in Battlefield 3 first seen in the tank mission, Thunder Run.
Biography
Occupation and Family
He is a member of the 1st Marine Tank Battalion of the United States Marine Corps, under the callsign "Anvil". It is revealed through comms chatter, the dinosaur that reads, "To Dad," and Solomon's monologue refers to the fact that Miller is a father of a young boy. His child's birthday is evidently in the near future, as can be heard when one of his fellow crew members tells Miller that "you'll be back in time for his birthday".
On October 31, 2014, he participates in US military operations against the People's Liberation and Resistance forces in the Dasht-e Kavir Desert, Iran.
In Fear No Evil, after rescuing Sergeant Blackburn and his squad, his tank is severely damaged, and PLR soldiers rush towards the disabled vehicle and take him as their prisoner.
Death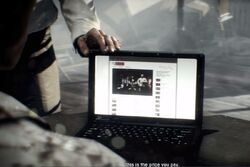 In his final moments, he was executed by
Solomon
with a knife, following a short monologue by
Faruk Al-Bashir
, all of which was recorded and released on the Internet. His execution site was later revisited by Blackburn and Campo during the mission,
Night Shift
.
Trivia
Along with Thomas Wyatt from Battlefield: Bad Company 2, Miller is the second playable character who was scripted to die in a Battlefield game.
In the mission Night Shift, Campo refers to him as Corporal Miller. This was likely an error in the audio recordings left over from an earlier point in development, i.e. the Thunder Run gameplay trailer, where Miller was a Corporal.
He is one of two characters to not make an actual appearance in a cutscene or gameplay or say something in the game, the other one being Jennifer Hawkins.
However, in the ending cutscene of Fear No Evil and the beginning cutscene of Night Shift, the player is able to see Miller in a clip of the execution video being played.
He is the only character to have a family revealed.
He is the only playable character to die in Battlefield 3.