Jousting with Dragons is a Codex Entry featured in Battlefield 1. It is unlocked by collecting all Field Manuals in the chapter Forte et fidele in the singleplayer mission Friends in High Places.
Transcript
Edit
THE BEST TOOLS TO BRING DOWN AN AIRSHIP
Edit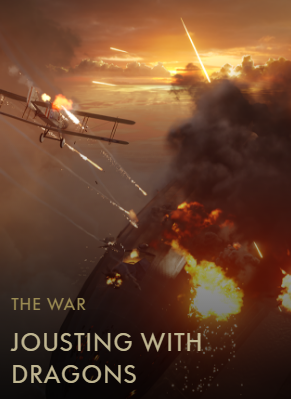 The giant airships were rigid structures with independent compartments of lifting gas. A bullet fired from a plane might not even hit one of these compartments. Normal lead bullets were ineffective against airships - these behemoths could be riddled with holes and yet still cruise home from the flight. The breakthrough came with the invention of paring two unique bullets: one to explode and one to ignite. This invention and planes that could reach the high altitude of the Airships marked the beginning of their decline. The air raids continued nonetheless.
"AN AIRSHIP IS STURDIER THAN ONE MIGHT THINK"
Edit
Despite its many operational problems, the British first viewed the French Le Prieur rocket as the ideal weapon to bring down airships. It had been used successfully against observation balloons over the Western Front and most planes could carry around 10 of them mounted in tubes on the struts of the wings. But to have any chance of a hit, pilots would have to get really close to the often heavily defended Airships.
No Airship was ever downed by a rocket. They were brought down by bombs released above them, by anti-air fire, by planes with the new bullet combination, and a bold French pilot who rammed an airship.
Community content is available under
CC-BY-SA
unless otherwise noted.