| | |
| --- | --- |
| | This article is currently under construction. It may contain little or inaccurate information. |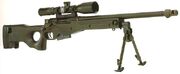 The British Accuracy International L96A1 Bolt-Action Sniper Rifle featured in Battlefield 2 as a 2nd tier unlock for the Sniper kit, and featured in Battlefield 3: Back to Karkand. It is based upon the Arctic Warfare, and is chambered in 7.62 x 51 mm NATO.
Battlefield 2
The
L96A1
is a 2nd-tier unlock for the
Sniper Kit
. The
M95
is required for this unlock, but players can buy the
Battlefield 2: Special Forces
expansion pack to make unlocking it easier. It is also the default weapon for the EU's snipers. It is very comparable to the
USMC's
M24
in terms of fire rate, damage output, and accuracy. Accuracy and power is slightly better on the L96A1, but the M24 has a faster bolt-cycle rate and is faster to ready it. Despite this, many players prefer the L96A1 over the M24 because of its unique scope. The scope is very similar to the M24, but it has even slimmer lines, which is ideal for long range shooting.
Battlefield 3
"British made, high performance sniper rifle. Widely used across Europe."
— Weapon description
The L96A1 is a sniper rifle in Battlefield 3 along with 9 other weapons available in the Back to Karkand expansion.
The L96A1 makes its first appearance in the "Strike at Karkand Gameplay Trailer."
It has a faster reload but cycling the bolt is slower than with the
SV98
. The L96A1 in BF3 appears to be more "modern" than the variant seen in BF2 due to the shape of its barrel. The L96A1 rounds travel faster in the air and thus, the bullets drop less at longer ranges, giving it a similar bullet drop pattern to that of the M98B. It is unlocked after the
Assignment
Creeping Death is completed by gaining 50 headshots, 50 spot assists and 5 knife
takedowns
. It is also worth noting that the L96 is the only bolt-action sniper that can mount a Flash Suppressor. When the Flash Suppressor is equipped onto the L96, the accuracy of the weapon, aimed or otherwise, is not affected at all, whereas on other weapons the Flash Suppressor does decrease accuracy.
thumb|300px|right|Overview of the L96A1
Unlocks
References