Cut content
The subject of this article, Lynx AH-7, has been cut from the final version of a Battlefield game.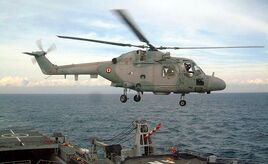 The Lynx was intended to be the European Union's transport helicopter in Battlefield 2: Euro Force. Although the vehicle itself was removed, the following line can be found in the localization mappack files of Battlefield 2:
KILLMESSAGE_VEHICLE_Lynx Lynx AH-7
In addition, there are helipads which can be found outside Great Wall's borders, intended for the cut 64-player version of that map. It could also be on the 16 player variant of the map as it features a Type 95 SPAAA (though for the European Union — if the PLA captures that flag nothing will spawn there) but there are no aircraft to use against it.