M1917 MG is a Codex Entry featured in Battlefield 1, introduced in the Turning Tides expansion. It is unlocked by obtaining 10 kills with the M1917 MG.
Transcript
Edit
TURNING TIDES
Edit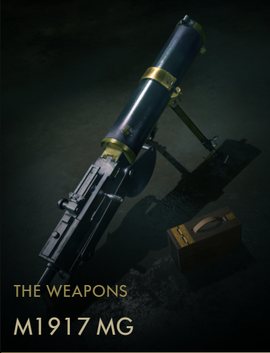 One of the most well-known American weapon designers was working on a new water-cooled machine gun in 1901, following on his air-cooled M1895 "Potato Digger" machine gun, but initially there was little interest in such a weapon from The US military. This would change when America entered WW1 in 1917 and saw the need for a large number of domestic weapons, so the 1901 design was improved into the M1917 machine gun. It was a water-cooled, recoil-operated weapon weighing 15 kg and feeding from belts of cloth or steel. The standard mount was a heavy tripod, but a carrying handle could be mounted on the water jacket for increased portability.
Prototypes were demonstrated to the US army in 1917, and in one of the most impressive tests the machine gun fired 20,000 rounds without failure. The M1917 was adopted and about 40,000 were delivered to the US army before the armistice, but only about 1,200 actually reached frontline troops. There was also a lighter, air-cooled version called the M1918, which was intended for use in American tanks in WW1, but it arrived too late to see service. After the war, the M1918 was instead developed into the M1919 for use with the cavalry. Both the M1917 and M1919 would be standard US machine guns all through WW2, and even saw some action in the Vietnam War. Variations of the M1917 saw service with Sweden, Norway, Argentina and Poland.
Community content is available under
CC-BY-SA
unless otherwise noted.