| | |
| --- | --- |
| | This article is a stub. It is short and in need of expansion. Why not help out? |
| | |
| --- | --- |
| | This article is currently under construction. It may contain little or inaccurate information. |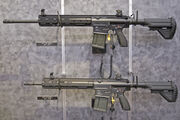 The HK417 is a German battle rifle manufactured by Heckler & Koch. It is a gas-operated, selective fire rifle with a rotating bolt and is essentially an enlarged M416. Chambered for the 7.62x51mm NATO round, it is intended for use as a designated marksman rifle, and in other roles where the greater penetrative power and range of the 7.62mm round are required. It has been adopted for service by a number of armed forces, special forces, and police organizations.
Battlefield 3: Close Quarters
"This bigger brother of M416 features a heavier 16 inch barrel as well as an enlarged receiver capable of handling the heavy 7.62 round. The high precision and stopping power of this rifle makes it ideal as a DMR, and it sees service in many armed forces worldwide. "
— Battlelog description

In Battlefield 3: Close Quarters, the M417 is issued to the Recon Kit. It was shown to the public in the "Close Quarters Donya Fortress Gameplay Trailer" through the killfeed, as well as being seen in third person, fitted with a Holographic Sight and a Suppressor. Due to its background and magazine size, it can be considered an American-themed equivalent to the SKS, but with more damage. The M417 is more suitable for medium to close range engagements than the traditional range of sniper rifles, killing in 3-2 shots at middle distance. At longer ranges the rifle can be used to some effect for supression or killing a wounded enemy, but the low power of the M417 rounds deters this kind of play style.
To obtain the M417, players must complete the Team Player assignment. The requirements for this assignment are:
10 T-UGS assists
Capture 20 flags
Trivia
Although the M417 is similar in appearance to the M416, the former uses the same ironsights as the P90, Mk11 Mod 0 and DAO-12.
In the Gun Master gamemode from the Close Quarters DLC, the M417 is equipped with a Flash Suppressor, an attachment that cannot be equipped to the weapon in multiplayer.