Maschinenepistole M1912/P.16
is a
Codex Entry
featured in
Battlefield 1
, introduced in the
Turning Tides
expansion. It is unlocked upon obtaining 10 kills with the
Maschinenpistole M1912/P.16
.
Transcript
Edit
TURNING TIDES
Edit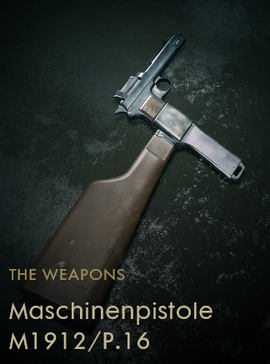 The Repetierpistole M1912 was an Austrian pistol that saw extensive service during WW1, and was produced in the hundreds of thousands. Like so many other handguns of the era, the M1912 was also available with a detachable shoulder stock, and this carbine version was used by the crews of reconnaissance aircraft to provide them with a compact personal defense weapon in the case of emergency landings behind enemy lines.
In the mountain war against Italy, Austro-Hungarian troops soon came up against the fully automatic Villar-Perosa, and the Austro-Hungarians needed a similar weapon. This led to the Repetierpistole M1912 being modified with an extended 16-round fixed magazine, and a switch allowing fully automatic fire. This new version, called the Model 1912/P16 was patented in early 1916 and issued to Austro-Hungarian assault units, with almost 10,000 produced up until the end of the war. With an incredible fire rate of 1,200 rounds per minute, the M12/P16 was one of the first machine pistols and a forerunner to the Sub-machine gun. During WW1, there was also about 200 special mounts produced, which combined two of the M12/P16's with a shared sight and stock, called the Doppelpistole M12. Although the M12/P16 machine pistol was prohibited by the Versailles Treaty, it kept on seeing limited use in WW2.
Community content is available under
CC-BY-SA
unless otherwise noted.