This article is a disambiguation page for Medals.
The following is a list of articles that share the same, or very similar, titles. Please follow one of the links below.
If an internal link led you here, you may wish to change the link to point directly to the intended article.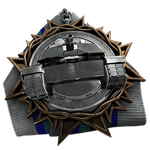 Medals are awards featured in the Battlefield Series that are obtained and provide additional experience upon the completion of specific tasks.