| | |
| --- | --- |
| | This article is currently under construction. It may contain little or inaccurate information. |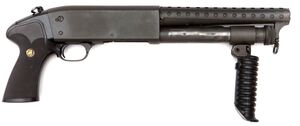 The Ithaca 37 is an American pump-action shotgun manufactured by the Ithaca Gun Company, and has notably had the longest production run of any shotgun in US history, still being produced since its inception in 1937. The weapon was based off the Remington Model 17, with Ithaca explicitly waiting until the Model 17's patents expired in 1937 to begin manufacturing the shotgun. Unlike most shotguns, shells were loaded and ejected from the same port in the receiver, providing less opportunity for the ingress of dirt and reducing its weight compared to other shotguns. The Ithaca 37 saw use by the US military in World War II, the Korean War and the Vietnam War, and remains in production today.
The Stakeout variant is a shortened version of the Ithaca 37 with a pistol grip and no stock designed for law enforcement use.
Battlefield Hardline
Edit
"The 37 Stakeout is a 12-gauge pump-action shotgun, deadly in close-quarter situations."
— In-game description
The 37 Stakeout is a weapon featured in Battlefield Hardline.
It is a purchasable Shotgun for the Law Enforcement Enforcer, and is uniquely equipped with an irremovable Vertical Grip.
Battlefield V
Edit
Incoming!
The subject of this article is a recent or unreleased addition to a Battlefield game. It may contain speculation or errors.
Have new, relevant information to add? Why not help out?
The Model 37 is a weapon set to be featured in Battlefield V. It first appeared in the Battlefield V - Chapter 4: Defying the Odds Trailer.
A non-customized 37 Stakeout is featured on the Deluxe Edition cover art for Battlefield Hardline.
The customized model of the 37 Stakeout is based on the custom Ithaca 37 Stakeout carried by Detective Ricardo Tubbs in the television series Miami Vice. The Stakeout's design is one of many references to Miami Vice in Hardline.
Community content is available under
CC-BY-SA
unless otherwise noted.